Thu 7 Nov 2019

to

Mon 1 Jun 2020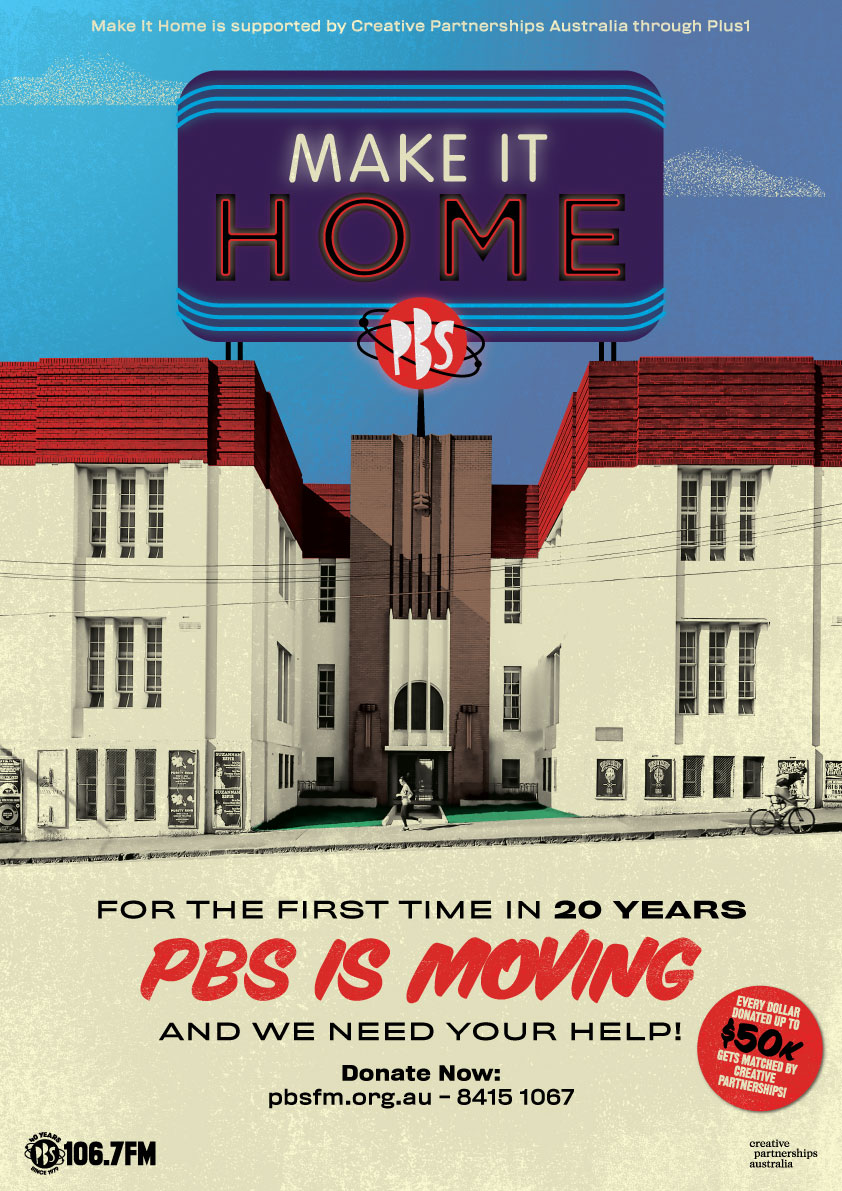 PBS needs your help to Make It Home as we move to The Collingwood Arts Precinct.
We are about to embark on a game-changing new venture - and we need your help!  The lease on our building is expiring, the landlord has sold the property and we need to move out and start again.  The good news is that we've been named the anchor tenant of the new not-for-profit Collingwood Arts Precinct - a place for organisations dedicated to music and other creative endeavours.
The challenge is that the move, renovations and studio build will cost us $1.5 million.  
And every dollar we raise up to $50K will be matched by Creative Partnerships Australia via Plus 1.
You can get behind PBS by making a tax-deductible donation to our Make It Home appeal by clicking here, or calling 8415 1067.  Every donation will help, and below are some suggested levels of support.
$25,000 and above - Sky's the Limit*
$25,000 - Raising the Roof*
$10,000 - Higher Ground*
$5,000 - Build Me Up*
$1,067 - Good Vibrations*
$500 - Brick by Brick
$250 - Foundation
$2 to $249 - Basement Jams
* You'll be acknowledged on a plaque in our new home!
We've managed to raise just under half of the funds through support from the Victorian Government (through the Community Support Fund), the Helen Macpherson Smith Trust and the Community Broadcasting Foundation. 
We sincerley thank you for your support and hope that you are in a position to help us move house!
PBS HQ
"PBS is unlike any other radio station, so any support you can provide for them will have great impact  in the community for hundreds, if not thousands of local musicians and the wider music-loving community." Kylie Auldist, musician and PBS member
"Moving premises is not something most people look forward to.  Fortunately, PBS hasn't had to move very often in the 40 years of my involvement with the station.  This next move promises to be our most exciting.  We have faced many challenges in the past and are grateful for the support we have received from our members in dealing with them. It is to be hoped that our members will once again support us as we enter this new chapter of our journey." David Heard, Acid Country
Make Your Donation to Make It Home here
Poster design by Chris Drane, original photograph by Peter Clarke.