Join the Women of Soul Collective for the ultimate International Women's Day Celebration.
For one night only, vocalists Kylie Auldist, Chelsea Wilson, JoysSoul Music, Germaine McCarthy, Carla Troiano and Stella Angelico, perform original soul, r'n'b and funk with their incredible six-piece band at The Corner Hotel March 8.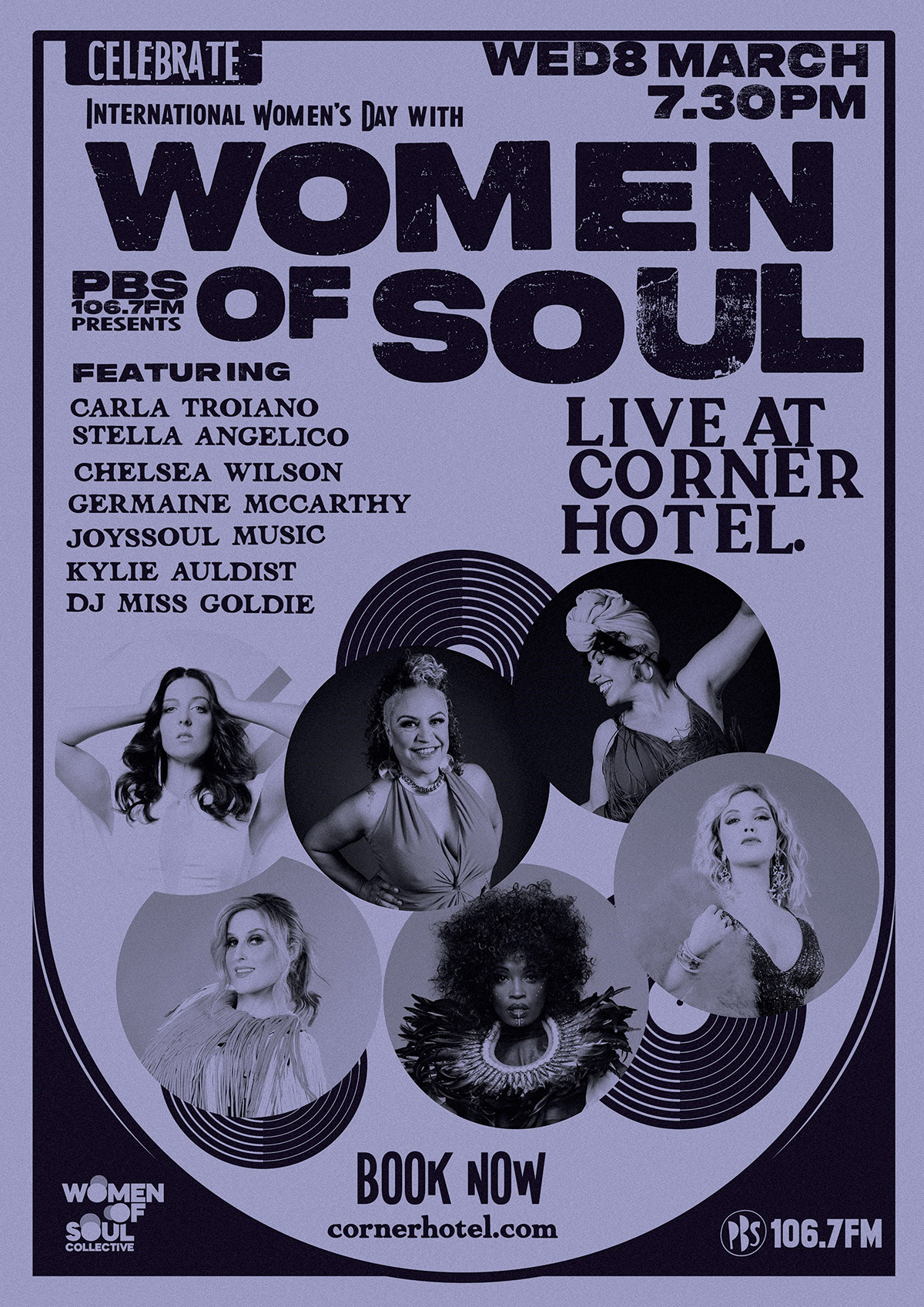 Since 2010, the Women of Soul Collective have raised the roof off iconic venues including Melbourne Recital Centre, Federation Square, and the Malthouse Theatre. Their debut album was PBS 106.7FM and ABC local album of the week and nominated for Best Soul Album at The Age Music Victoria Award.  In this rare club show, hear new tracks from their forthcoming album "Feel Good", plus a special homage to the original soul legend, Renee Geyer. 
Joined by Stella Anning (Guitar), Mina Yu (Keys), Emily Shaw (Drums), Holly Brick (Bass), Ash Ballat (Trumpet) and Jess Mahler (Saxophone), plus DJ Miss Goldie on the decks, this is a night not to be missed. 
Starring: 
Kylie Auldist is Australia's undeniable 'High priestess of soul'. The prolific songwriter is an ARIA nominated recording artist known as the voice of 'This Girl' the #1 smash hit. 
Stella Angelico is known for her exotic, psych, lounge meets girl-group sound and bold Italiano stylings. 
Women of Soul founder, broadcaster and vocalist, Chelsea Wilson brings her sense of sophisticated soul to every show. 
Carla Troiano embodies the essence of soul music and oozes confidence and effervescence in the spotlight. 
Vocalist Germaine McCarthy has an inimitable style that fuses disco, soul and r'n'b. 
JoysSoul Music is a powerhouse vocalist with a larger-than-life stage presence.
Miss Goldie is a broadcaster, curator, and record collector, presenting 'Boss Action' on PBS 106.7FM for over 10 years. 
Presented by PBS! Book at www.cornerhotel.com