PBS was heartbroken to share the awful news that Pierre Baroni passed away on Tuesday March 9 following an 18 month battle with cancer. 
An extraordinary broadcaster, Pierre programmed and presented Soulgroove'66 on PBS since 2003 and was a broadcaster at the station since 1997. Pierre's shows were meticulously planned, brilliantly researched and presented with a clear reverence for the artists, musicians and labels for whom he was such a great champion. Pierre was a key part of the resurgent interest in classic soul music, and his passion and enthusiasm for these musicians on PBS and in Melbourne's clubs helped make our city a great centre for soul and classic rhythm and blues.
Pierre chose to keep his illness private. When first diagnosed he told PBS management that he wished to continue presenting Soulgroove'66 until his last breath. Despite all of the challenges Pierre did just that, presenting his final program from Studio 2 at PBS Saturday March 6.
Many PBS announcers have paid tribute to Pierre on their shows. If you'd like to listen back to some of the warm stories and music inspired by remembering and honouring Pierre, we have listed them below:
Richie 1250 on Stone Love  
DJ Manchild on The Breakdown
Matt on Twistin' Fever  
Andrew Young on Jazz on Saturday 
Emma Peel on Swtiched On 
Richie 1250 tribute to Pierre on Soulgroove'66
Jesse I on Babylon Burning 
Samantha Goldie on Boss Action
Peter Miles on The Gospel Show
Crispi on Radio City  
Shio on Eternal Rhythm
Milo on The Breakfast Spread 
Ron with an online tribute on Magic Carpet Ride
Matt on Juke Joint
Mike Gurrieri on Mystic Brew 
Ronan Hamill on Hippopotamus Rex
Adam Rudegeair on Black Wax
On Wednesday 17 March, Vince Peach paid tribute to his dear friend on Soul Time. 
Our thoughts and condolences are with Pierre's family and his many close friends. 
We miss him dearly.
PBS has been inundated with messages of love, support and tributes for Pierre. If you'd like to share yours with the PBS community, we welcome you to add it here.
You can read more about Pierre here:
pbsfm.org.au/news/soulgroove66-archive
pbsfm.org.au/news/soulgroove66-7-vinyl-release
pbsfm.org.au/program/soulgroove-66
pbsfm.org.au/news/pierre-baroni-soulgroove66
Remembering Pierre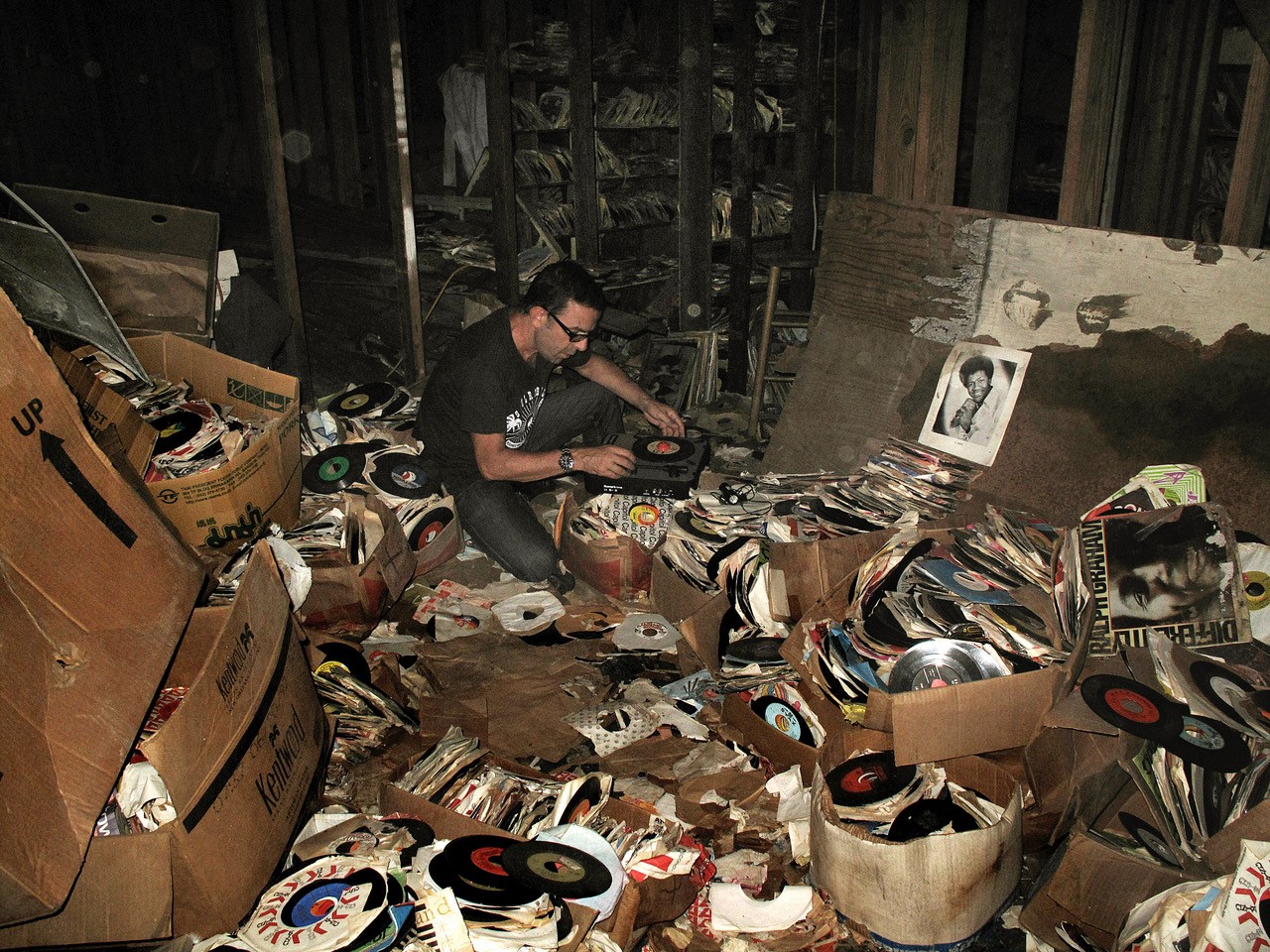 "The first time I dug for 45s at Eddie's 3-Way in New Orleans in 2010....
I had been diggin' for 45s in New Orleans for a few years during Jazz Fest and Ponderosa Stomp visits, mostly at Jim Russell's on Magazine and at Domino Sound in the Treme. One day I was diggin' upstairs at Jim Russell's with Jason Goodman when Brice Nice, another DJ who organised the DJ line-up at the 'Hip-Drop' night at the Stomp, called me and asked me if I wanted to go diggin' for 45s the next day at this place called "Eddie's" and I said I would. Jason asked me what place Brice had suggested and I told him. He looked at me and told me I'd need a full body suit and gas mask as the place was full of rats and toxic mould after having had the roof torn off and flooded by Katrina. I laughed thinking he was joking. The next day I got a cab to Eddie's, the cab driver looked at me kinda strange when I gave him the address. It's across the road from where the Magnolia Projects used to be and a pretty rough part of town. (you can Google it and find out all about it)  Anyhow, I got there and climbed up this long ladder, through a hole in the first-floor wooden balcony floor and there was Brice sitting there on the balcony, diggin' through a box of 45s. I asked him what the deal was and he said the 45s are inside, all over the floor, some have sleeves, but they're all new, original 45s that have been a bit exposed to the weather as it took Eddie a while to get a roof back on the building… and there's no power. Luckily, I had my trusty battery-operated portable turntable. Any 45 you find is $6, no matter what it is and what condition it's in. My mate Matt, who came with me, took a flash photo of me inside, playing a 45 on my portable, just to show some of the room. You couldn't do it in there though as it was pitch-black and you had to grab your torch, a carboard box, just fill it up and take it out on the balcony and start diggin'. As you walked around the room with the torchlight, looking for an area that didn't look like it had been ploughed through before, you could hear rats scurrying from the light... it was… er… interesting. Eddie Jr. himself turned up later that day and asked me if I wanted to come back the next day and I said 'or course'. He told me how to grab the ladder and the key to the front door from the guy in the house next door. Then after I paid him for my day's finds, we locked up and took the ladder next door, he gave me a lift home to my hotel, he said I'd never get a cab to come and get me from there."
Tributes
"At 5.30 during Pierre's final show #927, there is a lovely moment where he sends out Otis Redding's 1966 version of Try a Little Tenderness 'to a friend of mine, who is no longer with us…Michael'. Vale Pierre Baroni, you beautiful man. May your voice and old shows remain forever on PBS!" - Peter Kirkpatrick
"Listening to the tributes today and the enormity of this loss becoming ever clearer. My deepest condolences to Pierre's family and friends. Rest in peace soul brother" - Lucy
"Saturday afternoons in Melbourne will never be the same. Thank you Pierre for introducing me and many others to your passion for soul and rhythm and blues. Especially thank you for introducing me to James Carr, who I swear you nearly played almost every weekend. Rest In Peace" - Trevor Carlisle
"I never met you Pierre, but your voice and your beloved music will continue to comfort me. My empathy to all those who knew Pierre and a shared sorrow for PBS" - John Selleck
"I never met Pierre, but he kept me company on many a sunny Saturday afternoon working in the garden or during the long, cold lockdown of 2020. I'd usually crack my first beer of the day around the time of Pierre's handover to Jesse at 5pm. I'll be raising one (or three) in the great man's honour this afternoon. Thanks Pierre; I can't believe you're gone, but you will live forever in our hearts and memories. A gigantic loss to Melbourne and the wider world. Rhythm & Blues will always be here" - John Spud
"Absolutely devastated...Saturday afternoon will never be the same. RIP Pierre, and thank you for the wonderful music and artists you've introduced me and many others to... " - Nic
"What a difference a week makes! I heard Pierre say last week "See you next week", after another tremendous show. My Saturdays for the last 15 years were pinnacle of my life looking super forward with mounting excitement to listen to the FAB Soulgroove'66, brought by the highly versatile, knowledgeable and humorous Pierre Baroni. He was meticulous in his preparations and delighted in all the gorgeous back stories of a label, musicians and the incredible Soul voices. I was always transfixed and made notes of anything new and sublime. I remember how he introduced Lee Moses and championing the rare and little known artists. He was incredible in sharing about his finds and experiences. I loved that he played Bobby Blue Bland. I send my my deepest and heartfelt condolences to PBS and his family at this terrible time. I know I shall continue to listen to his shows on the On Demand section of PBS. He gave so much to music in Melbourne. RIP Soul Brother Pierre Baroni" - Archie Bacheta 
"Pierre was such a gift to us all. I remember him being very kind with his music and support of fellow artists. He will be sadly missed. :(" - Sweet Felicia
"Give to the great unknown. I always loved the music listening and education Pierre. Rest in peace man" - James McBride
"I only met Pierre once but I had a lovely chat with him about my favourite singer the great Otis Redding. Well Pierre, you are now up there with the big man and all the other soul greats. RIP Pierre. You be greatly missed" - Elaine
"Oh my gosh, this is so sad, such a loss. The best of the best. Will so miss his voice and his selections. I hope his family read all these messages and know what he bought to all our lives" - Sarah, Northcote
"It was a date every Saturday 3.00 to 5.00 pm for Soulgroove'66 with the master Mr Pierre Baroni, he leaves big shoes to be filled vale Pierre" - John & Catherine
"For the last 15 years, Saturday afternoons have always been shared with Soulgroove'66 and Pierre. What an institution he was and plenty of times I emailed or texted him and thanked him for sharing his passion with us and growing my musical education. And he always responded, just as recently as a month ago when he sent me a couple of photos of him and the Memphis Boys, lamenting that most of them were now passed. Sadly we add Pierre to that ever-growing list. Pierre thank you and Rest in Peace"- Andrew Tytherleigh
"Devastated to read this. Pierre Baroni a constant source of music education and inspiration and just damned enjoyable listening. Sending heartfelt wishes and strength to family and all the PBS community. ❤" - Graeme Chipp
"Loved, loved, loved your show. I discovered PBS when I moved to Melbourne. I found you and from that moment on I tuned in every week to listen and enjoy the music that you had selected - was food for the soul. RIP Pierre" - JD Grainger
"One of the best radio voices ever!!! We even sent him an email while traveling through France in 2018 while listening to Soulgroove'66 and he responded almost immediately on the show - a true champion. We will miss him" - Peter Ring
"Thanks very much for the enjoyable listening on Saturday afternoons and for what you've done for the music community in Melbourne. You will be missed" - Robert Clarke
"Totally shocked and gutted to hear this sad news. Thoughts to his direct and music family's. He will leave a big hole in my Saturdays, can't imagine how it will be for those who were close to him. Big condolences!" - Damien
"What a wonderful presenter Pierre was!!!! His enthusiasm and knowledge of the style of music he presented was phenomenal and enjoyable. His passing is mourned greatly" - Anon
"I can't choose any one particular memory. Just my absolute gratitude for his love and devotion to Soul that inspired me since I first started listening to PBS about 12 years ago. It was always a pleasure to hear Pierre's take on a given artist or song or period of music. Also the many chuckles he got from me as he shared his knowledge with an occasional ironic observation. I must admit I noticed in recent months a change to his voice and his speech and wondered at the change. Pierre Baroni you shall always be a hero to those of us devoted to great Soul and PBS. Rest In Peace mate" - Wahibe
"Farewell soul brother and my condolences to your family and Peebs colleagues and friends. What will Saturday afternoons be without your wonderful and deep passion and respect for the music, musicianship and performers. Thank-you for enriching our lives" - Paul Zanatta
"Listened to his show literally every week, loved his tunes, his voice, his positive outlook, and he always used to say hello to me if I bumped into him at the bank in Coburg with his mum - Bless Him X Rest In Peace PB X" - Samantha
"Soulgroove'66 was one of the weekend highlights for us. Sending our thoughts to all at PBS. From Syndal the dog" - Digby Drew
"I was shocked and terribly saddened to hear of Pierre's passing. I hope his family can find solace in the fact that he had a deep impact on me personally. I tuned in religiously to his shows and he opened my eyes to a wider variety of music. For this I am eternally grateful. He will never know what a positive force he was for my musical journey. Each time 3pm Saturday comes around, I will continue to tune in and find the soul and R'n'B heart he passed on. Long live Pierre. Thank you" - Sean Kolednik
"Absolutely devastated to learn of the passing of Pierre. Year in, year out, Pierre's voice would ease me into the weekend, gearing me up for a Saturday night out. Not to mention all the boogey's on the dance floor at Soul in the basement at Cherry on Thursday nights. You will be missed and thought of every Saturday 3-5pm for many years to come. Thank you for everything" - Laura Robertson
"His programme the week the BLM marches were subject to such outside violence was so moving, heartfelt and inspiring, he will live in so many songs" - Anon
"When I was preparing to become a presenter on PBS, I was delighted to join Pierre during his show, Soulgroove'66 one Saturday to see to be a panel buddy for which i was welcomed warmly and have since been an avid listener to his show ever since, learning for myself about the music he shared. Saturday's will not be the same. R.I.P, Soulbrother" - Andy Merkel
"It was Pierre's beautiful voice and music choices that turned me on to PBS. I cannot believe that I will no longer hear him on a Saturday afternoon. It feels as though a good friend has passed out of my life. My sincerest condolences to his close friends and family for such a deep loss" - Amanda Braga
"I must start by sharing great condolences to Pierre Baroni's family and close friends. Then there's the rest of us who mourn the loss of a truly talented presenter. I didn't know I loved soul til I heard Pierre spin and weave his magic. What a knowledgeable and humble man. I loved hearing his take on the music as much as the music. Thankyou Pierre, I'm so jealous of those on another plane getting your best. Saturday will never be the same. RIP Pierre xxx" - Melissa Grabert
"When I told my 6yo son of the passing of Pierre, he didn't know what he looked like but his voice was well known in our household. Our first love isn't soul music but with such a great program as is Soulgroove'66, we couldn't help but feel the music grow on us. We will miss his dulcet tones, choice tunes and the backstory to every classic track he spun for us. We shed a tear and crack a smile for a man with style" - Mr.Liquid & Finny Velo
"Vale soul brother..."  - Rodger Jessup
"To all the fantastic presenters and staff of PBS, please accept my deepest sympathies at the death of Pierre Baroni. I don't really know how to express my grief here, as I only knew the man from his fantastic show which I listened to religiously. I know that you all must be very upset like me. He was a legendary presenter and did so much to educate my musical taste. It is a huge loss to PBS, and to Melbourne's music scene. I hope you can in some way express my feelings and my condolences to his family and friends" - Jeremy Hanley
"Also to have had the privilege of DJing with him plus filling in on Soulgroove'66 such an honour. R I P beautiful man . Thankyou for all the support of our Southside Soul events xx I will miss your selections and voice and everything you brought to your show xxx" - Carol Quinlan/ DJ Lady Soul xx
" Sound Track of our lives"   "Thanks for everything , Dear friend...❤️❤️" - Sabo & Bazza
"Warm, well-researched presenter and lover of the music. His personal insights and anecdotes about the artists just enriched the whole show. Not to mention his soft and mellow voice, sometimes tinged with humour and self-deprecation, but so caring about the artists and their music. Rare tracks and leads to hitherto unknown musicians. Modest and meticulous. Someone who could easily dismiss a broadcasting glitch and get seamlessly back on track. Saturday afternoons will never be the same. Pierre produced so many great show let's keep playing them in the timeslot for quite a while yet" - Cheryl Daye
"Loved the background he gave to the artist and song - and always the obscure town or city the song was recorded. His tribute show to Aretha Franklin shortly after she passed away was astonishingly good. I'll miss his Xmas specials" - Robert Strachan
"Thanks for the many years of beautiful tunes brother, my family and I will miss your musical education every week. Rest in paradise mate, thank you" - Clayton Roddy
"Incredibly sad. What a fantastic person Pierre was. Beautiful" - Robert Fomiatti
"Pierre, as friend of yours and of Soulgroove'66 for life I can only say you will be greatly missed, you really did make a difference and in a nice way. RIP Pierre our thoughts remain with you forever and with your loved ones at this very sad time" - Stephen Bardsley
"Ahh Pierre. I will miss you. Remembering the times you got kicked out of Yah Yah's. Sticking up for me" - Emma Burt
"Back in 98 we were both volunteers for shows that ran back to back, Bitches Brew and Soul Time; two very different taste in music but the same goal to see a premiership won by the Bulldogs, go doggies!!! We found our own voice and ended up broadcasting on Saturdays back to back for a while and then with "Switched On" in the middle. I will never forget your beautiful soul, will miss you every weekend. Rest in Peace" - Saúl Zavarce
"Pierre's show each Saturday was the high light of my weekend....I've listened to his show for years and it influenced my love of soul and always brought sunshine into my weekend and week ahead....I'm so sorry to hear that he has passed on. This is such sad news" - Laura Camm
"Respect and Gratitude to Pierre Baroni.  Over my decade at PBS I got to know Pierre through so many live-to-airs, festivals, clubs and bars. I always had a ton of fun with Pierre and beautiful chats. I was always in awe of his musical prowess, but mostly by his all-round knowledge and experience in the music biz. I will never forget our conversation about his 'run in' with Pearl Jam in NYC in the early 90's. He came and told me after I had just interviewed two members of Brad, Stone Gossard and the late great Shawn Smith. He told me that he happened to head to a venue called Wetlands with his new camera and take photos of a then, fairly unknown band called Pearl Jam. He was side of the stage and he said that near the end of the gig, he took a photo of Eddie Vedder and at the same time Eddie Vedder took a photo of Pierre on his polaroid. I thought that was a pretty hilarious thing for Pierre to have a photo of Eddie Vedder taking a photo of him. Pierre then completed the story, some 15 years later, when he and I were hanging out in some bar somewhere in Melbourne. Probably Cherry. He said that he met Eddie Vedder, probably at Cherry, one year when Pearl Jam came to Melbourne, and that he spoke to Eddie about that moment he took that photo of Eddie taking a photo of Pierre taking a photo of Eddie... Then, to my disbelief, Pierre told me that Eddie said he still had that polaroid shot of Pierre taking a photo from the side of stage and it was on his fridge! How great is Pierre? Eddie Vedder has a photo of him on his fridge... I'm sure this is a well-known story, and I hope I remember it right, (it was at Cherry) but this story really summed up, for me, who Pierre was. A gentle and humble guy who was much larger in life and knowledge and music and soul than I could have ever imagined. The more I got to know this cool guy who played soul records, the more I realised how incredibly large this wonderful human was in spirit and life and it taught me to do what you love and take in an interest in it all. Thank you Pierre, for all the great moments we shared working and hanging and chatting about music and life. With gratitude, respect and love. Phil" -  Phil Egan
"Very sad news about Pierre B and I know you guys, along with the Melbourne music community more generally, will be particularly feeling his imprint and his loss. Fond regards to everyone and keep up your great work. It makes a difference!" - Anne K
"Soulgroove'66 really turned me on the soul music, and I am now a huge fan. Pierre was a brilliant presenter, and Brough his own soulfulness to the airwaves every week. I am so saddened to hear of his passing. Vale Pierre" - Richard Home
"ONE OF THE FEW WHO WERE STILL WEARING BEATLE BOOTS IN DA 80'S!!!!!!!!! Thoughts to ya people" - Grant Buultjens
"I first met Pierre when he asked me to give his band The Pony a gig, he declined my offer of a drink or two at a Manhattan dive bar and I listened intently to his radio show writing down the names of many of the great songs he played. Rock on Brother & rest in peace" - Paul Elliott
"When I was a teenager I heard The Pony's 'l Lied' . Bought the Single on picture cover which I still own. Years later I bumped into him at a PBS New year's Eve Soul night at Fitzroy where he was one of the DJ's. Got talking to him and mentioned l first heard about him when he was singing in the band. He was genuinely surprised that after all those years someone would recognise him cos of The Pony. l told him that there aren't many Pierre Baroni's in Melbourne and we had a laugh about it" - Minas Dimitriadis
"So sad to hear of Pierre's passing. Such great knowledge of music - I picked up heaps of from Pierre, gave Shazam a real work out during many of his shows. Rest in peace soul brother"  - Barry Scott (Baz from Brunswick).
"I am shocked and sadden by Pierre's death. My condolences to his family, colleagues and PBS" - Martin Ford
"I am totally sad and gutted to hear of the passing of Pierre Baroni. I loved listening to his beautiful voice and music after listening to Emma Peel Sat afternoon What can I say. Devastated. To the team at PBS. In my thoughts" - Graeme
"I'm shattered to hear the news of Pierre's passing. He has been integral to my Saturday afternoon listening rituals. May the beat go on..." - Glenn M
"Turned me on to lotsa great tunes. Gracias Mr Baroni" - Chris T
"Sad news - hearing his deep soulful voice on Saturdays truly made me feel like I was at home in Melbourne. I have many fond memories of driving around Melbourne on beautiful sunny Spring & Summer afternoons whilst listening to Pierre. You just can't get those moments anywhere else in the world but in Melbourne. To me his voice and show made me feel right at home when I needed it most. Thank you Pierre. May you rest in happiness" - Ben C
"Soulgroove'66 is what got me into PBS about 15 years ago. Pierre's shows were always such a wonderful journey through the world of soul, funk and classic R&B and broadened mine and many other's tastes in the genres. The stamp Pierre made on the Melbourne music scene will never be forgotten, vale Pierre" - Ben Zigouras
"From now on I cannot enjoy the special and informative musical journey that Pierre provided on Saturday afternoons. There will be a significant void in my listening experience. He was a great presenter and a gentle human being, I will miss him every Saturday and wish to pass on my sincerest condolences to his close friends and family. Greatly missed" - Garry from Meredith.
"Pierre the voice of Melbourne. Thank you for the soundtrack to my Saturday for all those years no matter where I was" - Eric Johnston 
"Happened to catch episode #1 of SG66, still listening now . God bless you Pierre, thanks for the musical education. You won't be forgotten" - Bernard
"Devastated and crushed to hear about the passing of Pierre Baroni earlier this week. By happy accident I stumbled upon PBS - specifically Soulgroove'66 - about 10 years ago. And so began my love affair with 50's, 60's and 70's RnB and soul music. Every Saturday afternoon I would tune in to her Pierre guide the listener through his eclectic and vast collection of soul records, providing insights into each artist, record and label. His passion and love for the music was infectious to me, and Saturday afternoons were always a joy. For the past five years I've been a patron to Soulgroove'66, and at about 4:50pm every Saturday night afternoon Pierre would thank his many patrons, including 'Andrew Gaul', 'Jax The Husky', and 'David and Andy from Daylesford'. Saturday afternoons will never be the same. RIP Pierre, and thank you for the tunes" - Andrew Gaul, Jax The Husky and David and Andy from Daylesford
"Pierre is an absolute legend. His knowledge and dedication greatly enriched my life - he was the best educator imaginable. I never met PB in person but will now have a hole in my life with his loss - the best 2 hours of the week, every week, for me since about 2008. Rest in Peace Soul Brother Pierre Baroni" - Mark Arnephy
"So sad to hear of Pierre's passing. I have loved listening to the passion for music in his voice every Saturday arvo for many years, he will be very much missed" - Lisa West
"Pierre was my absolute favourite announcer of all time and I would literally navigate my week around ensuring I listen to his show. I will miss his dulcet tones, his music, and the fascinating journey he'd take us all on every Saturday. To his family, (both related and PBS) all my deepest sympathies and love. Long live the funk Pierre... A great loss to Melbourne, a great loss to humanity" - Klara McMurray - The Funky Celebrant
"What a man, what a huge loss! Saturday afternoon's will never be the same. RIP Pierre, thank you for the great music, education, passion and warm company that you brought to the airwaves every Saturday. Sending our love to Pierre's nearest and dearest" - Matt E
"Shocked that a piece of the musical landscape of PBS and Melbourne and my life is suddenly gone. ..that voice bring us that music, how we'l miss it" - Alex in Montreal
"The importance of PBS 106.7FM Melbourne in my life has grown exponentially since I moved to Melbourne 13 years ago. Being able to help by volunteering has always given me such a lovely feeling, and it has added so many wonderful people to my life. My favourite volly shift was always coming into man the phone on the Saturdays after Rad Fest to hold things down for 2 of my favourite DJs. I was by no means one of Pierre's closest friends, but I will truly feel an empty space knowing I don't get chat to him and share a laugh at gigs anymore. RIP Pierre" - Jill Corcoran
"A big contributor to the Melbourne soul/classic R and B scene. RIP Pierre" - Roy Wilkinson
"Firstly I would like to send my condolences and thoughts to Pierre's family and closest friends. I first started listening to Pierre on Vince's Soul Time many years ago, and I would record the 3-song brackets and put them on CDs some Pierre's and some Vince's. Those discs were listened to over and over again whilst I was out of Australia and accompanied me over many years and miles. I've been lucky enough to meet him briefly, but luckier still to have been able to listen to his tunes on the show and out at PBS events. I will certainly miss his dulcet tones, wealth of knowledge, and recounted experiences as well as the music he played. I can't describe how much respect, admiration and appreciation I have for him. I am sure I am not alone. RIP Soul Father" - Adrian
"Loved his music & his voice...RIP Pierre" - Jenny
"Thank you Pierre for contributing to community radio and making it to what it us and to what we all have. You will be missed" - Joe Milillo
"I remember chatting with Pierre at the open day of the move to Easey st. Ribbing him for being on one of the talent shows with M Holden. He returned serve with why was I watching it. True! What a shock. It's been a sad week since learning of his passing. Thoughts with his family and the wider PBS family" - Tony
"Pierre, you remain the heart and soul of R&B in Melbourne. Your 3pm slot was a listening must each Saturday and the reason I became a member. I am shocked and deeply saddened and send condolences to his family and all his PBS colleagues who, along with his listening audience, mourn his passing. He'll be with his soul brothers and sisters" - Carol West
"Sadly Pierre you have packed up your little box of 45s for the last time. You made my Saturday afternoons and yours was my "go to" show from the PBS library whenever I was in need of a lift or a soundtrack to cook or work to. You introduced me to Ponderosa Stomp which was such a fantastic NOLA festival celebrating the mothers and fathers of the music we love. Vale" - Kevin Breen
"Was belting out Try a little Tenderness last weekend - loving the music that Pierre so carefully chose. I didn't know him, but I knew his music, and every Saturday afternoon he came over to my place (via PBS) and he played records for me. So sad to lose him. The music lives on" - Dan Scott (Soulgroove'66 member, proud and passionate)
"Rest in Peace. Pierre thank you for the wonderful music that you played. Saturday afternoon's will never be the same" - Helen White
"R I P soulman. Saturday's will never be the same" - Michael McManus
"Pierre was a true gentleman and artist who also leaves a legacy of unique photographs of Australian musicians. Will be deeply missed by the Melbourne music scene" - Sherry Rich
"Rest in peace Pierre, thanks for switching me onto soul music. I'll be forever grateful" - Ross
"It is with a heavy heart I write this message. I've never met Pierre and only seen him DJ once at a slow grind fever many moons ago, but I feel a profound sense of loss with his passing. His deep knowledge of music and his innate musical storytelling ability, both verbally and through the tunes he played, guided me through well over a decade of Saturdays. In that time I had two children and moved interstate twice, but Pierre's voice (and music selections) remained ever-present. For me, raising newborns into toddlers and into school age is intrinsically linked to Pierre's voice and music selections. To put it another way, I caught my eldest humming the SG66 theme song the day and it got me thinking that he'd heard that intro every sat since he was born. Pierre was and will always be a part of our family – Our very own Soul Brother. Keep spinning wherever you are. Rest In Peace Pierre" - Miller-Norman Family
"Pierre's sonorous, unmistakable voice and informed music selections were the accompaniments to Sat arvo work for many years. So sad" - Glenn
"You were an absolute gun, Pierre - the pre-eminent Emperor of soul and RnB in the music capital - each Saturday from 3:00pm, you played the soundtrack of my life - I wish you safe journey, my friend..." - Motown John
"I'm stunned, and devastated. Pierre is irreplaceable. RIP soul brother"  -Kate Shaw
"PBS means Pierre Baroni Soulgroove" - Paul
"Going to Cherry Bar and meeting Pierre (and Vince) for the first time was life-changing. I'd been presenting on RTR-FM and DJing for a couple of years but seeing them at Soul in the Basement made me want to work that much harder. Pierre's sets were mind-blowing and it's fair to say I held him in quiet awe. He was more patient than necessary whenever I'd hassle him for titles and his selections continue to influence me. Soulgroove'66 was always an education. It was incredible how well-researched he was. When my son Matteo was born I signed him up as a perpetual member and it was a joy to hear the young lad get the nod from PB with every renewal. I saw shocked to hear of his passing and I'm very sad that I won't be able to catch up with him ever again. He brought a great deal of happiness to many people, many he had not even met. His dedication to music, his modesty and unwillingness to boast is an example for others to follow. My heart goes out to his family, friends and everyone at PBS-FM. Will miss you always. RIP PB"  - Adam Fox (Soulsides on RTR-FM 92.1 in Perth, WA)
"Rest in peace soul brother, Pierre. I feel like you connected with my soul, and many others!" - Philip Theodorou
"My sincerest condolences for a tragic loss. Always remembered for great music and a great contribution. A stalwart of the scene, he kept soul alive" - Steven M
"Saturdays were always about Soulgroove'66. My mum passed away last year, and later we found handwritten lists she'd been keeping of songs she'd heard on Pierre's show so she could listen to them again. Thank you for sharing and spreading the love for good music. You're going to be missed so much" - Teuila Krause
"Rest with the great Soul, Mr. Baroni. How lucky are we Melbournians to have had such a cool soundtrack to our Saturday arvos, played by him for so long? Shocking news, but remember all Doggies fans already gotsta Heaven" - Jules
"Your show was my favorite! I'd listen on the day and then repeat throughout the week. Your lovely voice guided us through some amazing music and stories. Thank you so much. RIP Pierre" - Trish
"I never met Pierre, but really loved listening to his show every weekend. It was always something to look forward to. One of my favourite PBS shows. You'll be greatly missed" - Marvin
"It's such a shock to hear of the passing of the most incredible and beloved Pierre. My heart goes out to his family. Saturdays just won't be the same without his sultry voice and classic tunes. His knowledge of and love for music was an inspiration" - Adrienne
"I cannot believe he is gone. To me he epitomised everything that I love about Melbourne. Some of my best memories are at Cherry Bar as a young woman freshly arrived in this great city. I will never forget you, thankyou for the music. Love, Ashlin"
"Always loved your show Pierre. You will be greatly missed. Sincere condolences to your family and friends" - Dale
"Pierre rolled out the welcome mat and threw open the doors to the house of "Soulgroove'66" where everyone could become a..."Soul brother and sister"...no experience necessary. It has been a truly great house to hang out in and host Pierre never failed to richly reward his visitors. I am forever indebted to Pierre's musical generosity. Rest In Peace soul brother"  - Steve Tanner
"Thank you Pierre for your joy and love for soul music, for sharing this every Saturday and for being the warm and wonderful soundtrack, and thank you to PBS for holding this treasure. I am so sorry, to Pierre's family, dear friends, to PBS station and to the whole soul community who love him" - Rachel
"I have known Pierre and his family for nearly 45 years he was a close and dear friend who I will miss. My heart is aching and sad at this loss" - George Papantoniou
"Deeply saddened by the news that Pierre Baroni has passed. You truly made our weekends so much better. Winter will be even colder without you in Slovenia" - Jordan & Neža
"When I read the news on Wednesday that Pierre had died I felt like I had lost a friend and I had never met him but I was a regular listener to Soulgroove'66 and I learnt so much from him. His passion was second to none. I know I will miss him on Saturday afternoons" - Julia Ess
"I really knew nothing about Pierre, but he became my friend over all the years I listened to his show. I didn't even know what he looked like but I got to know from the tone of his voice each week how he was and how he was travelling. He kinda became an extended family member, so I miss you and I thank you, Pierre for being such a nice guy" - Julie Brand
"I fell in love with Pierre's show on a visit to Melbourne 10 years ago, and now listen to them from Guyana every week. They've provided Sunday background music to our family every weekend, and accompany me through long days at work. Will miss him terribly. Travel safe man" - Timothy
"Just loved listening to this knowledgeable man on my drive home from work.." - Garry Mitchell
"Pierre's melodious voice and selection of songs was an intrinsic part of Sat afternoon in Melbourne. His death is a terrible shock and he will be deeply mourned - proving the power of radio, music and genuine as to elevate us all. Thinking of all the PBS presenters at this time as well as family and friends of this very special man" - Sim
"I never met Pierre though his music and voice was a big part of my life. I am really in shock over this and full of admiration for his strength and passion right until the end" - Donna Cameron
"This is incredibly sad news to wake to today. Pierre was such a gorgeous part of Saturday afternoons, and I will miss him, his dedication, his gentle style, his amazing knowledge and his beautifully crafted show, every week"-  Tom L
"Thank you Pierre for making Saturdays a joy and an education to boot. Your stack of 45s are now forever unpacked. God bless you Pierre" - Alex
"We lost you far too early Pierre, you made my Saturday's so much fun, I'd listen out the back yard doing the gardening with a cold beer and the music blasting, I'd end up just dancing for the most part. I'd always get excited hearing the intro to your show. My deepest condolences to all who had the pleasure of knowing Pierre" - Fulvia Fragiacomo
"Devastated. What a man, what a legacy" - Andrew Fraatz
"I was devastated this afternoon when I heard the news of Pierre's passing. I decided to cook a dessert because that what I have often done over the years during the afternoon on the weekend listening and singing to Soulgroove'66. What a show. I never met Pierre but I have been left feeling so empty knowing that he is gone. I guess that's the power of special people. Rest in peace Soul Brother" - Steve J
"Pierre (although, like many I never met him), framed my weekends. And I didn't realise how much until now. Hearing the hosts struggle to do their shows today (the first Saturday since his passing), has rammed home how loved he was. I am so sorry for everyone's loss (I openly weeped during some shows today). But... what a sentiment to a life lived well! Tears from the hosts for their lost friendship, support, love. We should all aspire to live a life that we leave such an impact. No 'condolences', open weeping and a total sense of loss. How we should all lead our lives, with varied interests, touching impact, kindness that touches across all ages and genders. The humorous stories on how Pierre touched all. This is what life is all about, what a life he led!" - Pam
"I am so sad to hear about Pierre's death" - Jenny Grook
"I sometimes suffer from anxiety and Pierre's smooth voice and curated tunes on Saturday afternoons was the perfect antidote. What a beautiful soul. He will be very sorely missed. People Get Ready, there's a train A comin'... thank you Pierre"  - Jonathan
"Thank you for sharing your music with us Pierre. I and my partner Chris will miss hearing your special take on soul music. Rest in Peace" - Jenny
"Pierre has been the soundtrack of my Saturday afternoons for so long - will be missed but remembered fondly" - Russell
"I came to Melbourne in 2009 and discovered PBS. Even though I moved overseas again, my Saturdays are still filled with Emma Peel, Pierre Baroni and Jesse I... right until last week... What a shock to hear that we'll now have to miss Pierre's soothing voice, great stories and great choice in music" - Aniel
"Your show was one of the first community radio shows I listened to upon moving to Melbourne almost a decade ago. I was moved by your knowledge, your warmth and of course the beautiful records you spun. Soulgroove'66 was a warm, rich and cosy fixture of countless Saturday afternoons, often paired with a long breakfast, many smooches and too much coffee.. Thank you for your love of music, your generosity, your dulcet tones. I'm glad I told you once at a Slow Grind how much I enjoyed your show and how warm and grateful you were. Big love to your family, friends and PBS family too. Many heavy hearts are being nursed in your honour. Vale Pierre xo"  - Ash
"Sending my condolences to Pierre's family and loved ones and to all in the PBS community. Saturday afternoons won't be the same. I take my hat off to Pierre for continuing his commitment to his show right up to the end. As someone living with an advanced cancer I know a little of what it's like to live with this insidious disease. But I think I know why he did it. Music is life and life wouldn't be the same without music. He will be missed" -  Matt B
"So shocked and saddened to hear of Pierre's passing, absolutely made my Saturday. To hear this afternoon's presenters' stories and tears is a sentiment to the love felt for this man. My condolences to his family and all of us uplifted for just a couple of hours on a Saturday arvo! Thank you so very much xxx" - Kerry Adcock
"His show helped me get through the night driving buses around Sunbury!"  - Harry from Craigieburn
"Like so many, I was utterly shocked by the news of Pierre's passing as I had no idea he was ill. Loved his show, his soothing voice & the beautiful music he championed for so many years" - anon
"A staple of our Saturday afternoons for years, Pierre not only gave context to thousands of hip hop, tv and movie samples, he introduced me to a lot of new, old and rare music. He'll be greatly missed. Vale Pierre" - Wayne Joyce
"Very saddened by the news of Pierre's passing. Can we just replay his shows at the regular slot? :(" - Michael Roussety
"Spending my Saturday night listening to Pierre's last ever program. Rest easy" - Daisy
"I am a long-time listener to PBS being from Melbourne. I was heartbroken to hear of Pierre losing his life to the big C. There is only one Pierre Boroni and his Soulgroove 66 was one of the best radio shows and helped to make PBS one of the best radio stations in the Universe. My love to his family, friends and all at PBS. He joins all the Soul Grooover's in Stardust. My respects and thank you for the great tunes and your soothing voice Pierre" - Jessica Apthorpe - member from Brisbane
"It's just so hard to believe. I took PB and Soulgroove'66 for granted. An iconic man. R.I.P Pierre"  - Josh
"Have a look at Pierre Baroni's Instagram photography page.... he led an artist's life.... well lived.... gone too soon.....rest in peace soul brother.... " - Rose Marie Szulc
"Just heard this sad news tonight over the radio on way home from a gig. Met Pierre many years ago as young lads. I remember him as a go getter. Delighted when I found him broadcasting Soulgroove'66 the last few years, and enjoying his stories behind the hits and the artists. What a beautiful presenter. Thanks for the uplifting music and your presence mate. Condolences to family and friends. R.I.P" - Greg
"Pierre's tribute to Aretha was possibly the best documentary into the life of a muso (more powerful than tv or film), that I've ever had the pleasure of experiencing. So informative, so insightful, so empathetic, so soulful. Thank you Pierre. Thank you for giving Melbourne soul!" - Stuart
"Vale Pierre, it was a blast, friend. I'll miss staggering (me, at least!) the Richmond streets singing soul classics with you after a good night of music. Be at peace, my friend X" - anon
"Sometimes you don't know what you got till its gone... but we all knew what a treasure Pierre was. For a voice on the radio 2 hours on a Saturday to have such an impact on so many people he never met (including me) says it all. Thank you thank you thank you" - Jono
"I'm so sad to hear of Pierre's passing and my thoughts go to this family, his PBS family and his other friends. I listened to Pierre and Soulgroove'66 from the very start in 2003 and most weeks, including last Saturday, not knowing it was going to be Pierre's very last show. Pierre and Soulgroove'66 have been such an inherent part of the music in my life and of my Saturday afternoons in Melbourne. I just loved the passion in his unmistakable voice as he told interesting stories and anecdotes about the great music and artists he played each week, and I'm really going to miss listening to him and Soulgroove'66" - Frédérique Robert. Melbourne
"I never met Pierre, but after a 20-year residence abroad it was the music available on 3PBS that helped ease me back in to this city. Soulgroove '66 became the Saturday arvo go to program" - Tershare from Box Hill
"I was an avid listener of Pierre's Saturday afternoon program and am saddened to hear of his passing. It's been very touching to hear the tributes paid to him by his PBS colleagues. I was especially moved listening to Emma Peel's tribute to Pierre this afternoon. She bravely soldiered on in what must have been a very difficult time for her. My heart goes out to Pierre's family as well as his PBS family. Best regards to you all" - Simo Hakala
"I am deeply saddened with the news of Pierre's passing. I am one of his many followers of Soulgroove'66, learned a great deal and developed a great interest for soul music by listening to his and the other pbs soul presenters. He will be deeply missed. My condolences for the entire PBS community. Rest in peace Pierre" - Tanya Scott
"Condolences to Pierre's family, friends, and the PBS community. Saturday afternoons will never be the same. Rest In Peace Soul Brother" - Dave
"A soul meditation every Saturday afternoon, what a man, can we replay his shows every Saturday?  Irreplaceable" - Mark
"He put the PB in PBS. I still can't believe we won't be hearing the deep soothing bass tones of his voice every Saturday, as he introduced us to some of the greatest music I've ever heard. Every show was a history lesson, his passion for music was plainly obvious. I was fortunate enough to meet him in person once and I was completely star-struck, but he was absolutely down to earth and welcoming. He never failed to plug a gig for the band I play in, even when we hadn't specifically asked. He had his finger on the pulse and was a tireless champion of live music in Melbourne. I still owe him a drink for helping me find someone to take a spare ticket to Gladys Knight, on-air, the day of the show. If I ever get to heaven (which I'm pretty sure is a Soul in the Basement night that never ends), Pierre, I'll meet you at the bar" - Monk
"Pierre, what a soulgroove you have left in our hearts. After listening to you since the birth of Soulgroove'66 and your introduction to each episode, the blissful joy in your voice every Saturday afternoon teaching us the listening audience about the music and artists that you loved. Thank-you for the knowledge that you shared with us, tirelessly, effortlessly. Sincere condolences to your family and your PBS family" -  Margie O
"Most of us who never met him but knew him only as a soothing voice on the radio, could just tell he was a great bloke. He seemed to be soothing us more and more right till the end" - anon
"It was sad to hear of Pierre's passing. I very much enjoyed listening to his shows especially during the Covid-19 lockdown. Rest in peace" - Aaron Flavell
"Tragic news. Washing the car and doing stuff around the yard on Saturday afternoons just won't be the same without Pierre's knowledgeable and entertaining delivery of some of the best ever music" -Kevin
"Such a shock and loss to Melbourne and soul music world. My Saturday afternoons won't be the same. Rest In Peace soul brother" - Christine Mathieson
"On Richie 1250's loving tribute to Pierre Baroni on Soulgroove'66 (13/3/2021) he spoke of the 'soul soldier'- those youngsters that Vince and Pierre introduced and educated over 2 decades of 'Soul in the Basement' at Cherry, ACDC (FKA Corporation) Lane Melbourne.  When I first tuned into PBS, it was by accident- scanning FM dial, stopping on Vince Peach's Soul Time feat. regular guest hosts Steven Williams and Pierre Baroni.  At the time, I had a deep hatred for my job. The perfect catharsis was to hit the dance floor Thursday nights at Cherry which always ended up in limbs flailing, heart pumping, sweaty good times with a bunch of strangers dancing to the best tunes made decades ago by American soul and RnB artists selected by Vince and Pierre.  Without realising it, I was a soul soldier in Melbourne's soul army.  This led me to the station, as a member, volunteer, and eventually staffer. Whilst we didn't work closely, he helped me out a bunch of times, and I witnessed Pierre (here and abroad) as a tireless seeker, a fan and champion of music on and off-air. How lucky were we to share in your generous contributions. Thank you Pierre, your generosity, attention to detail, creativity, influence and imprint will not be forgotten. Sincerest condolences, respect and care to Pierre's nearest and dearest" - Mara
"I'm still shattered by this news. My favourite broadcaster on this or any station by far, and a man who introduced me - and countless thousands of others - to so much wonderful music. You will be missed - Saturdays just will not be the same any more. But you leave a legacy of having enriched so many people's lives through the music you shared, and that is something very few people get to say when their time comes. Thanks for it all Pierre - take it easy" - Michael Roberts
"Thanks for the ongoing musical education and joy soul brother Pierre. Your immaculately researched shows have always been an integral part of of my Saturdays from living in Melbourne to now Perth. Forever grateful for shining a light on those artists who music and stories needed to be heard. As difficult as it is to pick just one experience the two shows on Soulgroove'66 devoted to Jackie Shane in 2015 and 2019 are essential. Then hearing that music played at Cherry Bar or Soul-A-Go-Go and seeing the crowd reaction a true delight. Thank you always Pierre your contribution to music in Melbourne and further afield will never be forgotten. Rest in power soul brother" - Denis Cleven
"Unassuming and never without a smile - I was never unhappy to run into Pierre" - Clare
"The backbone of the Melbourne music scene, we will miss you!"  - Jake Mason
"I was in early primary school when Pierre started on a Saturday afternoon - his voice has been a constant for almost my whole life. I've cried a lot tears this week for a man I never met in person, but who has been an almost life-long companion. He made me fall in love with soul music, and provided an incredible musical education for myself and so many others. Thank you, Pierre - you will be remembered in all the amazing tunes that you introduced us to" - A Student of Soul
"Pierre was and will be an exceptionally likable person , full of vivaciousness back in the 80's at the Australia hotel. Strutted has stuff so well!! RIP (Keep them turning)" - Joanne (Jo)
"Pierre. Thanks for the education, thanks for goosebumps, thanks for the tears.... see you through the smoke when I get up there"  - Cam Swell
"After an insanely busy week during which I heard of Pierre's passing I was unable to listen in to PBS as much as usual. This morning I drove from Melbourne to our home in South Gippsland, replaying Pierre's last show. Such a beautiful voice, the perfect friend to join me on my drive. Much respect and compassion to all who are a little bit poorer now that he is gone, but a little bit richer because he was alive"  - Marilyn
"Thanks for everything Pierre, every week you played such great music, I really appreciate the effort you put into making every program a pleasure to listen to, with possibly the smoothest, most beautiful radio voice imaginable. Such a brave, courageous effort to keep on presenting right up until the last week of your life. You will be missed, rest in peace" - Paul
"I will for always remember your emotional tribute to Aretha. Will miss you. My thoughts with your family, friends and of course your beloved PBS family" - Brendon
"Added to the multitude of reasons that the passing of Pierre was such a devastating loss, is the fact that he aimed to play female artists for 50% of his show" - Simone Ferlazzo
"Always a faultless show!! My go-to on a Saturday afternoon. Thank you - R.I.P." - Rick Ricksteen
"I am filled with a deep, beautiful sadness which is blooming into expansive gratitude. I love you Pierre. Thank you brother. Go in peace. Go well" - Dave Perl
"Thanks Pierre (and PBS). Like so many who feel the sadness and loss this week, you and I never met. You just lured me in and at last year's music festival, I upped my game and joined the patrons of Soulgroove '66. That all seemed straight-forward enough, however amidst the bedlam of music festival broadcasting, as you called out the new and renewing names you got to mine and paused, pondered the pair of surname syllables and gently asked if this new patron wouldn't mind messaging in a few pronunciation hints, keen as you were to say it right each week for the next year. I was fascinated and just thought to myself, wow, this guy really cares. Thanks again. You were one of those people who make life so worth living. Rest in peace" - John Scahill
"My Saturdays will never be the same!!! Maybe the kind folk at PBS can re-run his shows" - Geoff
"Pierre brought all the soul music lovers together, he shared his love and passion for the greater good and we are all better for it. Rest in soul Pierre" - Kristen
"Thank you Pierre for giving me a musical education and a love of soul music. You will be greatly missed and Saturday's will never be the same" - Shane
"Mr Baroni. It is quite extraordinary that you have touched my heart and so many other Melbournians through the frequency" - Jason Bulner
"It's not often that hearing of the death of someone I didn't know personally strikes a chord, but today, oh today, my heart skipped a beat to read of Pierre's passing. My Saturday afternoons will never be the same. Thank you Pierre for your dedication, passion and soul and for introducing me to so much amazing music over the years" - Danielle
"I lost count on how many Soul A Go Go events I worked on, every time Pierre turned up and started his slot the whole dance floor exploded, no matter which venue the event was held at we always made sure there was Melbourne Bitter on hand in the rider for him, loved his show on Saturdays...will be missed and I'm sure he inspired a generation of presenters and raised the bar ..." - Con Kalamaras
"Much love to you Pierre, thank you for your love and all you did to share your music, knowledge, wisdom and humour" - Andi Ingram (DJ Nightnurse)
"I will miss hearing his shows and listening to him talk about the music in that distinctive, beautiful voice!"  - Emily
"I didn't meet Pierre, other than every Saturday afternoon, where I expanded my appreciation of soul. Thank you for your dedication and love of music" - Stuart Mayne
"Pierre not only was a character, he had Character .. It's treasured humans like him that have not just made a PBS a radio station , but a lifestyle and a religion for our inner souls. Pierre has given confidence and joy to so many in the PBS family" - Myles Baron
"May Pierre's soul rest in peace. He brought a lot of peace for me with his choice of music. God Bless" - Ramos Furtado
"It's not often that hearing of the death of someone I didn't know personally strikes a chord, but today, oh today, my heart skipped a beat to read of Pierre's passing. My Saturday afternoons will never be the same. Thank you Pierre for your dedication, passion and soul and for introducing me to so much amazing music over the years" - Danielle
"I lost count on how many Soul A Go Go events I worked on, every time Pierre turned up and started his slot the whole dance floor exploded, no matter which venue the event was held at we always made sure there was Melbourne Bitter on hand in the rider for him, loved his show on Saturdays...will be missed and I'm sure he inspired a generation of presenters and raised the bar ..." - Con Kalamaras
"Much love to you Pierre, thank you for your love and all you did to share your music, knowledge, wisdom and humour" - Andi Ingram (DJ Nightnurse)
"Vale Pierre Baroni, may you rest in peace.. Saturday afternoons will never be the same again, Thank you for the memories, all that great music, the excitement and warmth you brought into our lives You will be missed… And thank you to all at PBS, we take solace from all you lovely people, Emma Peel, Richie 1250 and of course Vince Peach, and all the other wonderful DJ's that bring cheer to our otherwise dreary lives" - Rod Allan
"Pierre's show was my Saturday afternoon secret pleasure" - anon
"Listened to his show every day for over a decade. I was a lapsed subscriber and his show made me re-subscribe. He introduced me to so many incredible soul R and B and singers, and I loved the little tributes and history lessons he used to give to each artist. I am so saddened by his passing. Lots of love to his family and the PBS community" - Danny Cash
"Pierre recruited me as a dancer at Shout nightclub where he was a DJ back in the 80s" - Olwyn
"I will miss hearing his shows and listening to him talk about the music in that distinctive, beautiful voice!"  - Emily
"I didn't meet Pierre, other than every Saturday afternoon, where I expanded my appreciation of soul. Thank you for your dedication and love of music" - Stuart Mayne
"All my memories of him and his show are fantastic. Well done. What a full on Champion. R.I.P. Soul" - Mr GT Ford Performance
"I had the good fortune to DJ with Pierre on many occasions over the years. Only wish there could be more. The hole he leaves in our music community clearly indicates the fabulous impact he made. As so many have said, Saturday afternoons will never be the same. We never talked about politics or religion. Just the important stuff: soul music" - Simon Laxton
"Goodbye Bulldog! Sad to see you go" - John Wornham
"We are so lucky for Pierre's dedication to and enthusiasm for music. I imagine he lived his whole life this way. What a blessing he walked this earth. My tears flow for his family and friends" - Jessie
 "The love, admiration, and respect, shown for Pierre by his PBS family was heartfelt and just wonderful. Even those listening who didn't know him would've had a feeling of loss and sadness. They would also realise and understand just how much he contributed to the community over the years. Someone who worked away quietly in the background helping others and sharing his talent and knowledge" - Debbie Wells
"Sad news. I always seemed to find myself tuning in to hear those great soul grooves. RIP" - D.B. Valentine
"Will miss your soulful voice and love for everything that's great about music" - Lou Di Gregorio
"What a great shame! I always enjoyed his phenomenal knowledge and meticulous program preparation. He was a true professional and a frequent companion on Saturday afternoons. And no more references to the 'SMS Action'. Condolences to all his friends, family and fellow PBS folk" - Michael Dove
"I will miss Pierre's wonderful, innovative program. A great loss" - Timothy
"I just saw the headline on the PBS newsletter and am completely shattered. I was truly hoping it was some sort of mistake. So grateful for the dedication and generosity he has shown over the many years" - Amanda
"Oh dear the world is now much smaller without you Pierre" - Bryan Walkinshaw
"Listened to Pierre's Soulgroove'66 show a few weeks ago and it was absolutely incredible. Full of warmth and passion for Soul music. Very impressed with his unique choices in music. It was clear that he was super organised and researched each song. Respect to Pierre Baroni, as a rockin' DJ, fine photographer and graphic designer" - Ally Oop
"I loved listening to the show - and was there a more unique voice...Pierre very obviously loved using his show to showcase great music and the music he played" - Tony O'Dea
"PBS is an abbreviation for Pierre Baroni Station as far as I am concerned. My neighbours got a soul groove education via my stereo, which was a highlight of my week every Saturday afternoon. Thank you, what fabulous enjoyment and interesting information we all got. Your love shone through" - Peter Breusch
"Thank you Pierre for bringing the joy and inspiration of great music to so many people for so long. You will be greatly missed!" - Amelia
"I first met Pierre when he worked with Vince Peach and Stephen Williams when Soul Time was in the 3pm-5pm slot on Saturdays. His knowledge of music was endless. I went to NOLA in 2011 and asked Pierre which record stores to visit I got quite a list including the physical address and best time to visit. Thank you Pierre. I had to pay extra to bring all that vinyl home and when I play it I think of you" - Neil Shepherd
"Remembering some fun times we had with you playing your best at our place, and all the support you gave us over the years. You are sorely missed" - Babz & Josh The Luwow
"We have listened to Soulgroove'66 for many years. Pierre you will be greatly missed in our West Brunswick household. Our thought are with your family and friends. Especially your PBS family" - Ken and Lorraine
"He was part of my musical education constantly introducing me to fabulous music. Vale Piere Baroni " - Franco Italia
"I loved this man with all my heart. We knew each other inside and out. I will miss him so much. I love you Pierre. All my love" - Amanda 
"Thank you from the bottom of my heavy heart, you always were a first-class music-lover!" - Matthew Doherty
"I wanted to send my regards to all at PBS, Pierre's friends and family. After so many years of having the privilege of listening and subscribing to Soulgroove'66, it's a tremendous loss" - Bron Cook
"Devastated to hear the news. Such a beautiful presenter, educator and fellow soul traveller. Every Saturday afternoon will raise a glass to Pierre, soul brother" - Andrew K
"No doubt Pierre would only want us to remember the good times, and many a good time we had listening to his radio show. Thank you Pierre for sharing your incredible passion with Melbourne" - Arty G
"Incredibly saddened to here of the loss of Pierre" - Toni Walker-Kopanidis
"I was shocked and devastated to hear of the sudden passing of Pierre Baroni. Thanks, Pierre for giving us so much musical enjoyment, fun and interesting information about the muso's of that time and era, to so many of us over the years. You will be truly missed, especially on a Saturday arvo that will never feel the same again. Sadly I missed the last live show, being upcountry waiting for a wedding to start, at the time, but will enjoy catching up with the recordings, the tribute shows and the memories of course" - Peter B
"Knew your talents would shine keep playing that beautiful soul RIP" - Norma, high school days
"He was my first real boyfriend at the impressionable aging 18 back in 1981 and remained a lifelong friend. I think he regarded me and my family as the family that adopts you. His passing pains me deeply but hearing this show I know this is the best tribute you can give him. Music is his soul. He will be grooving in with every tune you play. Much love dearest Pierre your friend Sam" - Samantha Jewel
"From listening to this fantastic show in my garage to streaming it when living overseas for the last decade, this show by Pierre was my go to and attachment to Melbourne. The voice and knowledge will be missed greatly. Rest in Peace Pierre" - Roger Gunn
"So very sad to read this news. Pierre's shows have been the highlight of my Saturday afternoons. I recently became a Friend for a Decade and Soulgroove'66 was the only choice for me!" - Mischa, Thornbury
"The best radio show in Melbourne. Put me on to so many great tunes. Nice guy in person too" - anon
"I was saddened to hear of Pierre's death - Saturday's will never be the same in our household his voice and his music will never be forgotten" -  Leonie
"Just found out today! 20th March, I am so devastated! What a massive loss! The man had so much" -  Karl Morton
"What a great show was Soulgroove'66, every week, always good. What passion, dedication, knowledge and warmth. Pierre had the best choice in music, it always fitted together beautifully. Saturdays won't be the same"  - Alison Strachan
"A soothing voice in an enlightening program: I had one proper convo with Pierre. I guessed it was Pierre seated outside one of the little bars Peebs DJs were using pre-Covid (with his charming girlfriend). The topic of speaking into the mic came up - I noted his particular, gentle voice method which made him stand out from most other DJs even on public radio. I commented on the smooth, rumbling pleasant vibe created regardless of attraction or not, of tracks played- the voice that really helped soothe me in tough times (and for many others I reckon). Thanks all Peebs people, the Soulgroove'66 team, esp. Pierre - for keeping Soulgroove'66 on-air and online. The journey Pierre gave leading up to my year of birth, has helped me understand the world I was born into. Saluté and cheers my airwaves Peebs mate" - Dom G. Inverloch Vic (with dedicated Mt Dandenong aerial)
"Even as a casual listener I could hear just how much knowledge, passion and chill Pierre had, and am grateful for his guidance in listening to the best music in the world ❤"  - Lil
"Rest in soulful peace, sharing beautiful tunes and stories should be everyone's mantra. May the music go in heaven if there is one and hopefully he is amongst all the great artists he played on his wonderful show" - George Theodore
"I have listened to Pierre as part of my Saturday afternoons for so many years. Shocked and devastated to learn today of his passing and realise that he will no longer be the musical companion, inspiration and guide to discovery of more great soul artists and music. Such dedication! Will miss you" - Oenone Serle
"Miss ya P-Dog" - Neville
"Someone so so familiar yet someone I never knew. Radio won't be the same without your sweet, soothing voice every Saturday our soul-brother. You introduced me to soul music and your show has been my go-to ever since. Vale. You will be terribly missed by our household" - Shelley
"We never met, but saddened like the loss of a family member for myself and so many...That's very special and rare. The goodness Pierre spread through his spirit and the music he shared was a dependable ray of light in the week. Will never forget him"  - Matt
"What a loss to us all, he's done so much for us, we will miss him" - Laetitia
"It's a strange feeling so sad about a man's passing who I never met or knew. When my dad died I wasn't sad for a single second. But Pierre sucked me in with his smooth voice sweet tunes and his warm and gentle laugh. After listening to him every week for over 10 year and my dogs the pointer sisters being members to his show for the last few, maybe I did know him in some way. Either way, it's 2 weeks later and I'm still sad. It'll be hard not to think of you at 3 every Saturday. Like most of Melbourne, I miss you very much"  - Tim Lane
"Very sad to hear of Pierre's passing. I didn't know him personally but one could feel how much he was loved around PBS, and of his influence on the people of PBS and Melbourne. His show and voice defined my Saturdays for a long time. They won't be the same. Peace and love be with you, brother" - Zoran Pajic
"My first memory of pbsfm was twiddling the dial on my radio and discovering this great program playing soul music on a Saturday. It was Soulgroove'66. Being a girl of the 60s it spoke to my heart and from that day I tuned in every Saturday afternoon. Then I started to explore other pbs programs and doors began to open to many genres of music, and now my radio is permanently locked to pbsfm, thanks to that day that I discovered Soulgroove'66. Rest in Peace Pierre" – Lucy French
"I don't know how many years I've been listening to Soulgroove'66, but it's long been a soundtrack to my Saturdays. Pierre's soothing dulcet tones, educating facts and comments filled me in on all the great music I missed earlier in my life due to the blandness of Melbourne radio in the 60's. Many Thanks PBS. Vale Pierre" - Boyce
"Thank you Pierre you have given us so much of yourself. Although being in such precarious health the passion and drive unselfishly continued. Pierre thank you for your inspiration! We all have enjoyed a higher quality of life because of you. For me P B S will stand for Pierre Baroni Soulgroove!"  - Sergio Giurina
"So Etta James dies and this guy named Pierre basically plays her for 2 hours. I'd never listened to such great music before or heard an announcer who could combine meticulously researched information with mumbling. From then on I'm hooked every Saturday possible. I'm really really going to miss his show. As a tribute I think PBS should allow subscriptions" - Rob Rowe
"To all the fantastic presenters and staff of PBS, please accept my deepest sympathies at the death of Pierre Baroni. I don't really know how to express my grief here, as I only knew the man from his fantastic show which I listened to religiously. I know that you all must be very upset like me. He was a legendary presenter and did so much to educate my musical taste. It is a huge loss to PBS, and to Melbourne's music scene" - Jeremy Hanley
 
"Such sadness losing our beautiful Pierre. My Saturday avos were always planned and centered around his show, not wanting to miss a single second. The enthusiasm, energy and love he gave each week was unwavering. Always a wealth of information, where he was happy to share his info and news. I was lucky enough to have had some lovely chats with him, and he always sounded like he was smiling as he read out my text messages. We had a common love of anything "Etta James" and the song "St. James Infirmary" where we both agreed that even though there are so many different versions, Bobby Blue was the king! In fact I sent that message to him on his 17th birthday with PBS, May last year. Such a beautiful soul, miss him dearly and love him lots. Rest in Peace soul brother. Love Teresa xo" - Teresa Verhulst
"So saddened to hear the news about Pierre. Have been listening to Soulgroove '66 online from London since 2007. I still remember the first time I discovered his show - it was like it was something made just for me. I felt a special connection to Pierre even though he was on the other side of the world. He was a special guy and I will miss him" - PP
"When Richie 1250 announced on that Friday that Pierre had died, I was gutted. I knew Pierre as the husky voice that sprung out of my speakers at 3 pm each Saturday. I knew him but did not know him. Radio listeners form a relationship with the presenter's voice. Over the years we think we know them more and more as they fit into that regular slot in our lives. For me, Pierre's music was new and fascinating. The stories Pierre told about the music fascinated me even more. And he was playing 45's for the whole program, year after year. Every now and then I listen back to Pierre's last performance and smile with tears. I hope that performance is kept alive and accessible in the online archive. Thank you, Pierre, we all really appreciate your extraordinary effort" - Chris Sweetnam
"I moved from Melbourne in 2001 and missed the sounds of community radio then around 2013 I realised I could stream PBS and the first show I clicked into was Soulgroove'66. Our household would religiously listen to it on demand on Sundays and my daughter who is now 9 has listened to it since she was tiny and she along with us looked forward to hearing it each week. The music will be sorely missed in our household along with Pierre's knowledge of the music he played. Love and strength to Pierre's family and friends take comfort in the knowledge how deeply he touch an unfathomable amount of people" - Darren Merchant
"I first meet Pierre when he was looking for a drummer in a band he formed in the early 80's. The band was called The Empty Suits. I still have some of our rehearsal tapes. We only played one or two gigs...One was supporting Paul Kelly...R.I.P. Mate" - Gary Nottingham
"Groove on Pierre. Sending our memories, thoughts and love down the Calder from Castlemaine" - MainFM
"Thanks for the music and passion" - Ben Kurrle
"Thanks for the music, Saturday won't quite be the same, but PBS and music lovers in general will keep your memory alive RIP" - Jennifer Chapman
"Loved this show, always an absolute pleasure when running around like a headless chicken to flick on the wireless and hear this, big shoes to fill for the next gen" - The Red Hill Hotel
"The very special person who came into our life some time ago you became apart of how family and everyday life have a beautiful photo of you and Ginger in how home and it makes me so happy to look up and see farewell Pierre" - Helen and Colin
"He made my everyday better. He got me into soul. I found a genre that was for me. He got me into PBS, other great shows and more great music. Life, busyness, it's challenges they were all gently pushed aside while Pierre played his records on a Saturday afternoon. He broke up my week and gave me a lift. You would always hear a track or two that got ya! tuned into PBS while pottering in the garden, my favourite escape of the week. First in Abbotsford, then in Coburg, and for the last 11 years all the way down in Hobart town. My enduring connection to Melbourne. I could never quite believe how he had the discipline to do his shows chronologically. That must have done his head in. All 927 shows. I listened to the last while gardening. But I stopped and sat down on the veranda to sit still, gaze out at the sea and soak up the last minutes....How would he would sign off? Just like every other - 'Talk next week' he said."  - Greg Milne
"As Pierre's beloved soul brother Ray Charles once said, 'Goodbye don't mean gone'" - Seattle Mike