This announcer spotlight was written by Michelle Gearon and first published in our biannual member magazine, Easey Mag, May 2020 edition. We hope you enjoy reading this insight into story of Acid Country announcer, David Heard.
David Heard remembers sitting on a train between Geelong and Melbourne in 1978 reading an article in the Green Guide about a group of people who were "plotting a revolution" for the airwaves of Melbourne.  The new station would be unique, innovative, and would focus on music that did not receive airplay on commercial stations. An avid music lover, David decided to attend a meeting at the Prince of Wales Hotel, St Kilda, to find out more about this bunch of radio revolutionaries. Over 40 years later, the Acid Country presenter is still a dedicated volunteer.
David relishes the opportunity to share music that is out of the mainstream. First presenting folk and acoustic shows throughout the 80s, he shifted the focus specifically towards cutting-edge country music in 1991 with Rock 'N' Country, a precursor to his current popular program. The chaos of the early PBS program grids appealed to David – heavy metal programs followed by comedy, followed by folk, then jazz, then experimental, all in the space of a few hours – as "it opens up people to other types of music that they wouldn't normally listen to." Supporting local bands and live music in Melbourne has been a passion for David since the early days.
PBS has always been a pioneer of live music radio. From the Opening Night Gala in December 1979, to the radio/TV simulcast of 1988, to Drive Live – and all of the live music magic that happens on PBS programs every single week – innovative live music broadcasting is central to the station's identity. David was amongst it from the early days, broadcasting recordings of live music from the One-C-One folk club every week.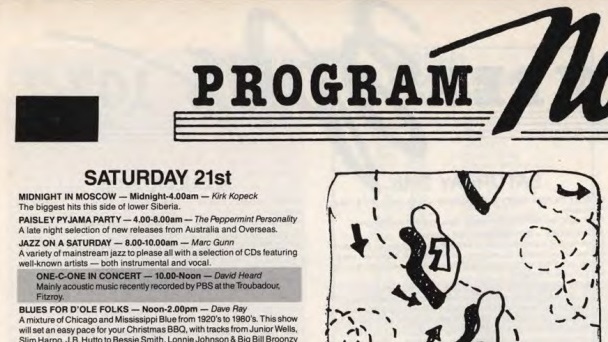 Sound engineer Rod McCubbin would record acoustic sets from the venue on reel-to-reel tapes that would be played on David's Mainly Acoustic show the following week to promote local talent. Regulars included Margret Roadknight, Paul Wookey, Eric Bogle, and Judy Small. David's dedication to live music broadcasting has continued in recent years with the Acid Country Outside Broadcasts, part of the City of Yarra's Leaps and Bounds Festival. Line ups have included Rich Davis and the Low Road, Brooke Russell and the Mean Reds, Van and Cal Walker, Sarah Carroll, Georgia State Line duo, Rose Zita Falko, Small Town Romance, and Chris Russell. These events give punters the chance to watch a live radio show in action, at the same time allowing those who can't be there in person to experience live music as it happens.
Acid Country presents cutting-edge country, roots rock, singer-songwriter, and bluegrass music with interviews, live performances and weekly gig guides. He's been around a long time, but David remains hooked into what's going on in both the Melbourne and international bluegrass and alt-country scenes. Interview highlights for David over the years have included Steve Earle, Emmy-Lou Harris, Lucinda Williams, Patty Griffin, Joe Henry, and Billy Bragg. His contribution to PBS was recognised in 2013 when he was awarded the Mick Geyer Award – a celebration of an individual's outstanding service to PBS and the broader music community. In 2013 he also received the Community Broadcasting Association of Australia (CBAA) Community Radio Award for Outstanding Volunteer Contribution, and the following year was awarded the City of Yarra Citizen of the Year Award.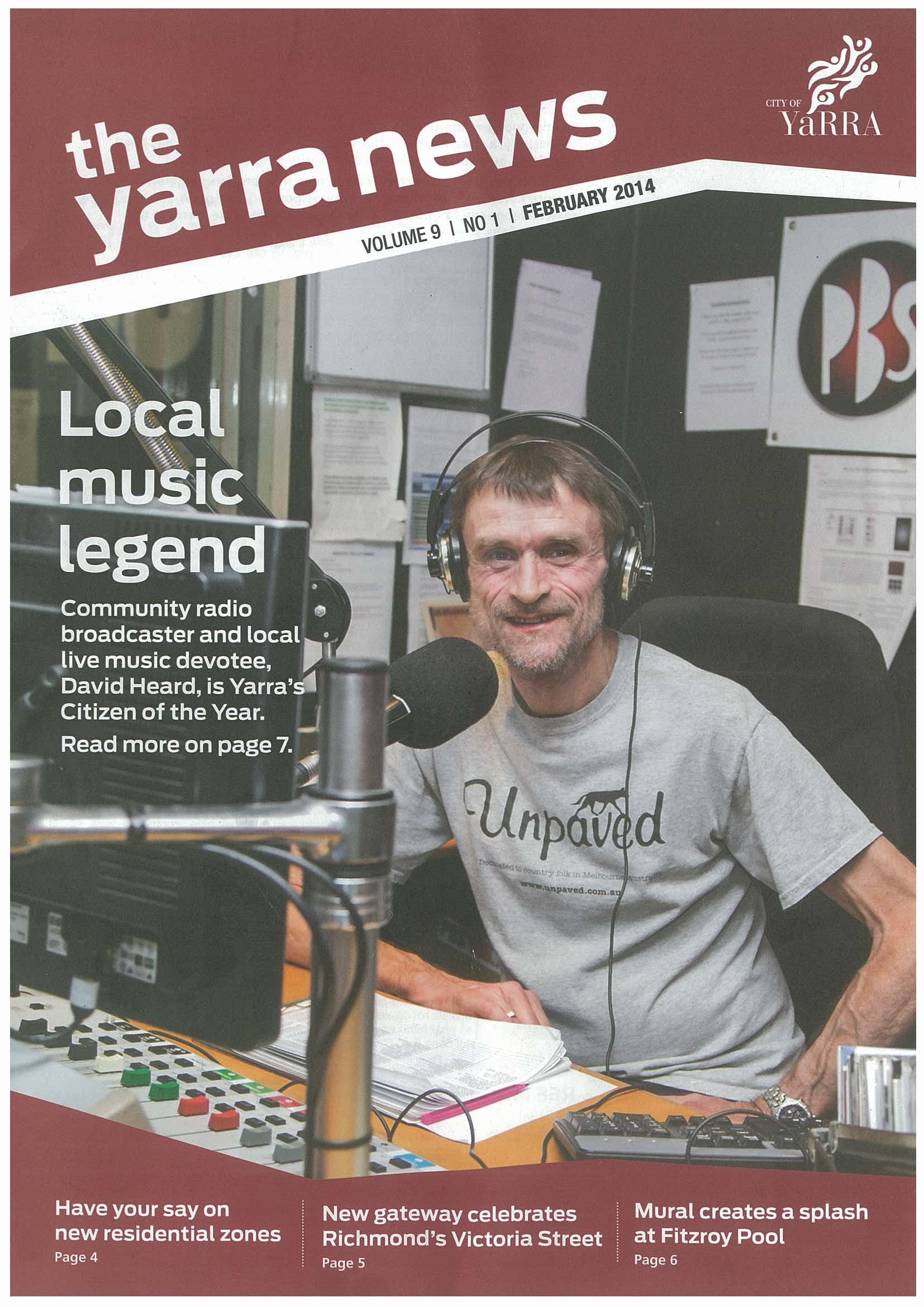 What makes an individual so committed to a community organisation for 40 years and counting? For David, PBS has stayed true to its original intentions, and the joy he gets from sharing new and old music is like nothing else. "A lot of things have changed over the years – technology has changed enormously – but I think the original aim of the station is pretty much as it was then, to play local and under-represented music." He adds that PBS is "why I think Melbourne is the live music capital of Australia."

In an ever-changing media landscape where how we listen to music is shifting, some often wonder about the future of community radio. David isn't worried though. "I think the future is pretty bright. […] They've been saying for years that radio is doomed, but it just won't die. People have been saying it's finished, but I think it's as popular as it's ever been. […] There's an appetite for what we do, and that's reflected in support from listeners and members."
Staying true to the original aims of the station – to support local and under-represented music – is what has endeared PBS to so many, and why legends like David Heard make a life-long commitment to the station. And that is certainly worth celebrating.

David Heard presented Acid Country every Thursday from 3-5pm on PBS from 2001-2021 and presented several programs on PBS since 1979.
Michelle Gearon is the PBS Membership Coordinator and Co-Editor of 40 Years of PBS Radio Book.
Remembering David Heard