Sound and Vision is a weekly segment on The Breakfast Spread exploring films and soundtracks with Xan Coppinger. With an equal love for armchair criticism, music, sound design, and film studies, Xan takes listeners on a 30 minute trip through cult-classics, memorable soundtracks, current film news, and a diverse range of cinematic topics. PBS is pleased to present Sound and Vision's new monthly feature article, where Xan will be diving deep into current topics and analysis in film.
Films in Isolation - by Xan
Getaway or gateway? I couldn't tell you anymore. 
As any row of seats at Nova's  Cheap Monday will illuminate, there are as many uses for film as there are audience members. G11 is there because it's her Monday escapism ritual. G12 is there with her mother in what they have found to be a delightfully low-inflammatory way of sharing company and popcorn. G13 is absolutely devoted to Italian cinema and will shoot you piercing looks every time you push your hand into the abyss of the Large Popcorn box. G14 is there on a Hinge date. G16 is where I sit. No anonymous internet date for me this week (I over analyzed each profile, and then myself).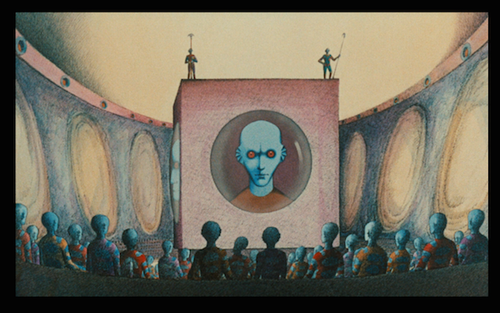 Perhaps I'm already eerily keen on the art of spectating, but I'd wager that a third of the pleasure in this cinema ritual comes from all the embellishments around it. The swarms of crowds (which during COVID-19 is now a fantasy in itself) piling up the escalator, the partitioned groups of pre-and-post viewing (half of us prematurely licking choc tops in the foyer, half of us pouring out of the cinema trying to dispose of wrappers and half-baked opinions), the sense of group anticipation, the cigarette-and-debate tournament held outside Brunetti's afterwards, the heaving blanket of silence that obediently falls over the audience as soon as the screen looms purple and Nova's signature piano licks kick in. 
It gives perspective to every film to consider how many different intentions are coming into each screening, how many disparate expectations, attitudes, and desires are piling into these seats; all to be washed over with the same two hours of cinematic ingredients. And after all being pulled through the same audiovisual car wash, still we emerge on the other side of the escalator with completely different experiences. Though I will no doubt talk to none of these strangers on my way down, appreciating the wealth and difference in opinions both humbles and embellishes my own. 
Wind forward 30 days - I'm now one of many solitary audience members sprawled in front of the lounge-room projector with easter-egg wrappers stuffed between the cushions. Unsure if it's 8pm or 11am. My vitamin D levels are swooping just a bit lower with every roll of credits. 
With Netflix claiming all-time highs over the past month and Europe having to crunch it's bandwidth by 25% to meet with rising streaming demand, it's clear this cinematic escapism is not a particularly avant-garde approach I'm taking. 
In absence of being able to experience much outside of your 4 walls and 3 housemates (all seven of which I now know intimately), film remains to be a continually immersive cure to isolation; and a continual choice between escapism and connection. Every time I nestle myself into the corner of the couch with the projector fan purring quietly next to my ear, I can appreciate that my mindset going into each film is going to be half the experience. 
Am I going in to turn on, tune in, and drop out? Alienate myself from my self-narrative and blissfully bathe, for two hours, in a reality completely estranged from my own? 
The deluge of streaming services now available to our tech-hungry generation, paired with decades of cinema that has created responses to every possible fictional narrative, now means that each experience can be so personally curated to suit your exact fantasy. If you want a Swedish-queer-zombie film, you can have it (Let the Right One In, 2008). If you want a Mongolian film about a rejected camel, you've also been covered (The Story of the Weeping Camel, 2003). 
How cinematically unfettered I feel knowing that my intention or decision to go into a film is left completely anonymous and unjudged. Whether I choose escapism, education, connection, amusement, relatability, procrastination, provocation, eroticism, intellectual challenge, guilty pleasure, or nostalgia is an entirely personal and private decision. Better yet, sandwiched into a theatre of strangers all directed faceward towards the singular screen, it's humbling to know that all these multitudinous approaches are harmoniously channeling in towards the exact same end - our realities all colliding towards this single screen and curated experience. As we let ourselves be guided upon this curated reality, each of us will meander constantly between shared and disparate experiences of what is presented to us on screen. Ultimately, every viewing we can make our own. 
So without further ado or judgement - here's a film for every cinematic intent I could think of. 
Educate me - on music:
The Jazz Loft According to W. Eugene Smith (2015)
A window into the art scene in 1950s New York, from the perspective of a dilapidated Manhattan loft. Featuring Thelonius Monk, Eugene Smith, Jimmy Giuffre, Zoot Sims, and Hall Overton. Not to be confused with the Beglian erotic thriller 'The Loft'. 
Joni Mitchell: A Woman of Heart and mind (2003)
Obviously expect to cry.
Message to Love (1997)
A portrait of rock, chaos, financial failure and 70s music culture at the Isle of Wight festival. Featuring Jimi Hendrix, the Doors, and the Who. 
The Last Waltz (1978)
For live footage of Bob Dylan, Van Morrison, Eric Claptop, Joni Mitchell and Muddy Waters as through Martin Scorsese's lense. 
Words of Love (2019)
A depiction of the tumultuous relationship of Marianne and Leonard Cohen, in the sultry context of 60s Hydra. 
Make me cry:
What Happened, Miss Simone? (2015)
A deeply personal account of Nina Simone's life. Not to be paired with the Joni Mitchell documentary - unless you have an abnormal amount of tears to shed. 
The Diving Bell and the Butterfly (2007)
The memoir of Jean-Dominique Bauby, a journalist who's stroke left him only able to communicate with his left eye. 
Peace (2010)
An unflinching look into the kindness of aged-care workers in Osaka. Don't be peturbed by the seemingly unexciting plot summary - this is one of the most moving pieces I've ever seen. 
Leave me speechless:
Mustang (2015)
A tender portrait of four sisters in Turkey coming of age under the weight of an oppressive patriarchy. 
Leave No Trace (2018)
A look at living off grid in America and the impact on family relationships. 
Midsommar (2019)
Who doesn't love an aesthetically beautiful, dystopian Swedish cult film? 
Calcutta (1969)
An immersive and powerful work by Louis Malle documenting the day-to-day reality of 60s Calcutta, India. 
Dogtooth (2009)
This is an extremely disturbing film - one that will need a few days of thought and stewing afterwards.
Literally, be speechless: 
These are a selection of non-narrative documentaries. Thus, making verbal descriptions for them is quite difficult. 
Samsara (2011)
Baraka (1992)
Koyaanisqatsi (1982)
Dish me some intense monologues:
The Conversation (1974)
The soundtrack alone will leave you reeling. 
Paris, Texas (1984)
An atmospheric endeavour in amnesia, relationships, and rumination. 
Allow me to experience some non-essential travel:
Alice in the Cities (1974)
The first of Wim Wenders' 'road trip' trilogy. 
Kumiko, the Treasure Hunter (2014)
Tokyo office worker abandons her jaded existence for a journey into the American midwest. 
Kings of the Road (1976)
Two men brooding over cigarettes, conversation, and the pursuit of escapism (or freedom). 
Ten (2002)
A film giving voice to Iranian women, from inside a metropolitan cab in Tehran. 
And some animation:
Ghost in the Shell (1995)
Japanese cyberpunk with a thundering soundtrack. 
Triplets of Belleville (2003)
A tour-de-force of the tour-de-france.
Waking Life (2001)
For some early 2000's lucid-dreaming and existentialism. 
Fantastic Planet (1973)
French extra-terrestrial sci-fi with stunning and engrossing visuals.
Xan Coppinger hosts the Sound and Vision segment on The Breakfast Spread each Tuesday at 8am, as well as co-hosting Solaris every Sunday at midnight alongside Clancy Balen. Keep your eye on pbsfm.org.au for more Sound and Vision feature articles on the first Monday of every month.