Wed 25 Mar 2020

to

Sat 25 Apr 2020
Welcome to PBS Announcer Spotlights. We're going to be exploring the station and the amazing volunteer announcers who make PBS the fantastic community that it is today. Keep checking in to find out about the brilliant people behind the mic who bring you such a fantastic and diverse range of tunes week in, week out.
 
Saúl Zavarce has been presenting his celebrated Saturday morning program, Fiesta Jazz, since 2000, making him a veteran of the airwaves and a familiar face around the station. Fiesta Jazz explores Saúl's Venezuelan heritage, delving into Latin jazz and beyond into Afro-Caribbean, Spanish and Brazilian jazz, jazz fusions and Latin American folk rhythms. 
Saúl emigrated to Melbourne via Sydney in the early '90s, bringing with him his absolute love for music and self-admitted lack of musical talent. Raised in a musical family in Caracas, Venezuela, Saúl was embedded in a tradition of music and dance and spent his childhood developing a passion for music. He has a particular affection for progressive and complex music which permeates his radio presence, encouraging him to examine and push against strict boundaries of genre. 
Saúl's discovery of PBS came in his early days in Melbourne as he flicked his radio over while house hunting and was caught by Sarah Tartakover's Friday afternoon show, Latin Connection. He connected deeply with the station, becoming a member and meeting Sarah and Len Davis of Bitches Brew who encouraged him on his radio journey. 
This journey has led Saúl to an international community and interviews with stars of the Latin jazz world. Notably, Saúl remembers interviewing Cuban pianist, composer and founder of Latin jazz band Irakere, Chucho Valdés, whose career spans 50 years, many continents and 6 Grammys. Understandably excited, Saúl forgot to turn on the recording device before the interview and they had to do the interview all over again. Fortunately, an old piano was on hand and a wonderful improvised recording emerged from the session.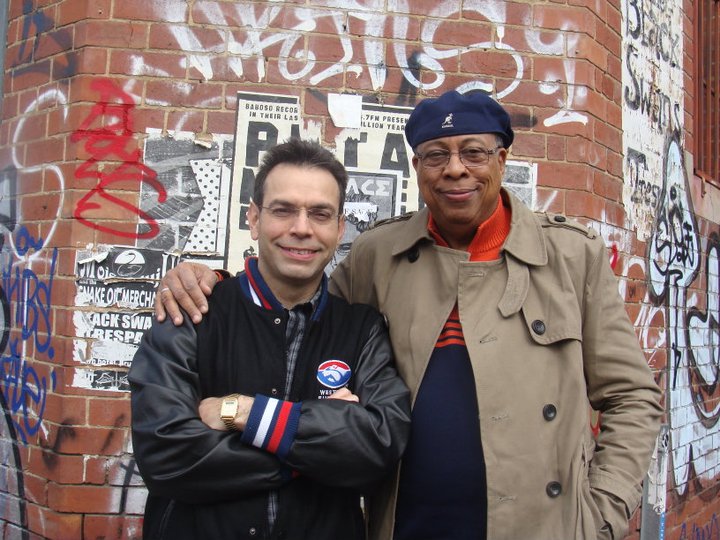 Saúl Zavarce and Chucho Valdés outside PBS on Easey Street in 2010
We all believe that PBS is a special place and for Saúl this means an oasis away from commercialism and consumerism, where he can allow his own tastes to flow and recommend artists he loves and feels a connection with, without having to meet KPIs. In the words of Neil Peart of Rush, Saúl is a 'friendly voice, a companion unobtrusive'.
 
Sometimes it's hard to see beyond the radio personality who reliably brings you your favourite music every week, but it's here we to get to know Saúl. So what does he do when he's not on air? You'll find him working as a Technical Trainer for Siemens, or diving into the realms of Major League Baseball and competitive Dominoes. 

We'd like to thank Saúl for his dedication to Fiesta Jazz and to PBS over the past 20 years, and we're very glad that he happened to tune in on that Friday afternoon in the late '90s. 
You can hear Saúl on Fiesta Jazz every Saturday from 11am until 1pm and if you want to support Saúl and the station, become a member to Fiesta Jazz here.