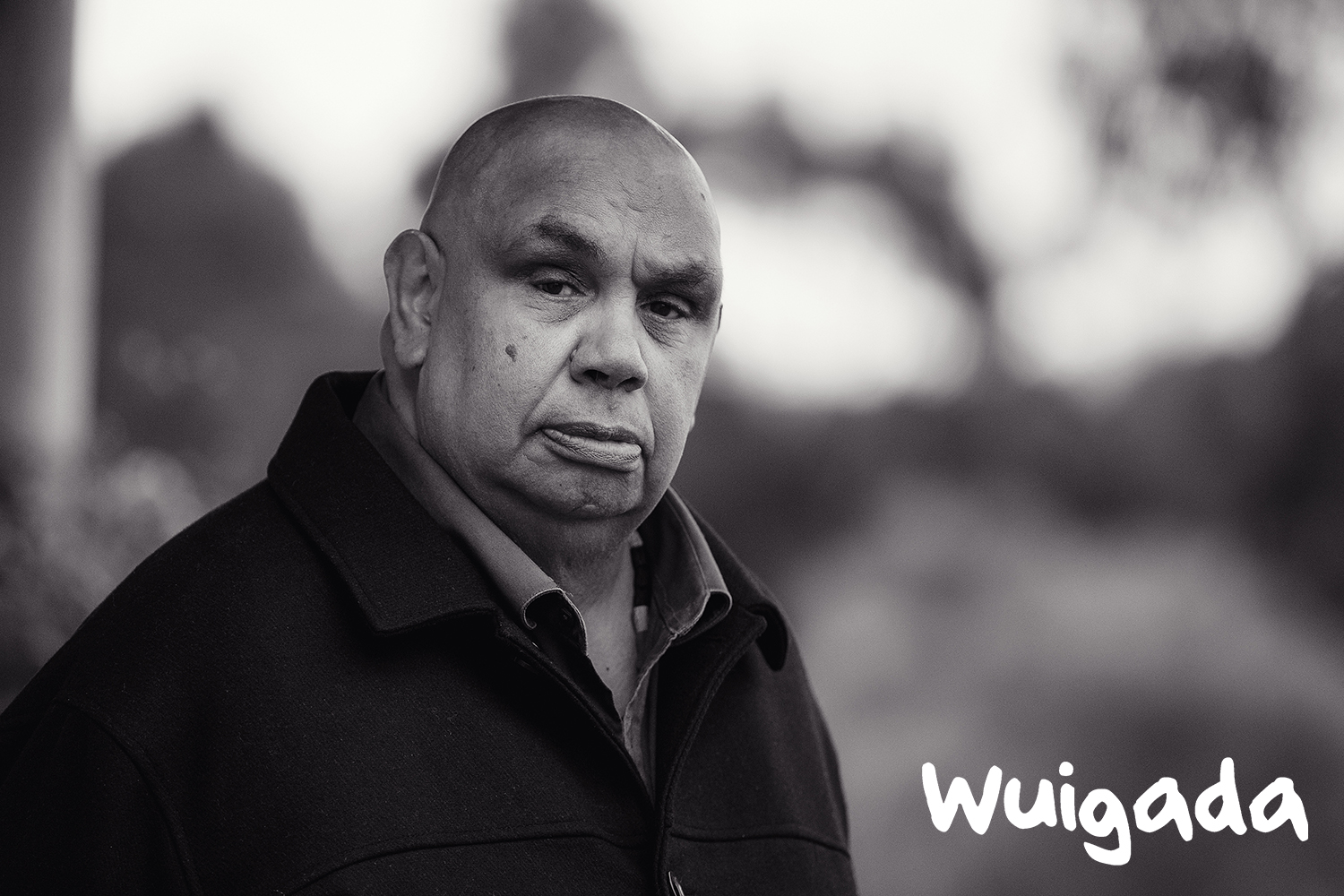 Welcome to Wuigada. 
Wuigada is a dedicated space on the front page of the PBS 106.7FM website where First Nations musicians can share and celebrate music made by other First Nations musicians with PBS audiences. As well as sharing music, Wuigada contributors also curate the content by nominating First Nations musicians to take part in this project. This ensures that curatorial control of Wuigada is collectively self-determined by First Nations musicians. 
Wuigada was named and developed by the highly acclaimed indigenous singer songwriter, Kutcha Edwards. Wuigada in Mutti Mutti means 'to sing'.
Kutcha Edwards has been prolific in combining songwriting and activism since 1991, when he joined Koori group Watbalimba and began the remarkable journey that has taken him from the tiny Riverina town of Balranald to tours of Australia and the world. It is his experiences as a survivor of the Stolen Generations and his proud Mutti Mutti heritage that has shaped his diverse creative output in groups like Blackfire and The Black Arm Band. At the same time he's also been able to forge a successful solo career combining his 'Bidgee' blues with traditional songs of people and country.  
It is with great pleasure that the first edition of Wuigada takes this opportunity to highlight the music and musicians that have influenced Kutcha Edwards. Before we launch straight into his top ten, we asked Kutcha two important questions: 
Please tell us about any of your new (or upcoming) releases:
I've been in the studio recording my 5th solo album due to be released in 2021. It's called Circling Time which is what all of us down south in Victoria have been doing during this pandemic. We put out a single & film clip from it last month called 'We Sing' which was a beautiful collection of nearly 100 artists contributing their voices but more importantly their spirit. 
Putting your own music aside, can you choose a song by a First Nations musician that has had a big impact on you, and can you tell us about your connection to that song?  
'Black Boy' by Coloured Stone. I first heard the song back in the early 80's when I'd travel down to Melbourne to visit my brother Mik during the summer holidays. He had it playing in his car on a cassette tape and immediately it resonated for me. It sung about me.. "a shy black boy who came to the city..". Little did I know my cousin Selwyn Burns was in the band and years later I'd be fortunate enough to perform with Bunna Lawrie. We even got to drive around together with Bart Willoughby in the 'Legends' episode of Kutcha's Carpool Koorioke. 
Here is Kutcha Edwards' Wuigada pick of legends & pioneers:
Coloured Stone - 'Black Boy'
No Fixed Address - 'We Have Survived'
Warumpi Band - 'Jailanguru Pakamu'
Bobby Randall - 'Brown Skin Baby (They Took Me Away)'
Ruby Hunter & Archie Roach - 'Down City Streets'
Joe Geia - 'Yil Lull'
Roger Knox - 'Koori Rose'
Harry & Wilga Williams & the Outcasts - 'Streets of Old Fitzroy'
Yothu Yindi - 'Djapana'
LJ Hill - 'The Singers and The Poets'
Marlene Cummins - 'Pension Day Blues'
Selwyn Burns (Blackfire) - 'Big River'
Shellie Morris - 'Swept Away'
Listen to the Wuigada playlist via YouTube now.
More Wuigada stories: Sue Ray, Troy Jungaji Brady, Dave Arden, Shellie Morris, Deline Briscoe, LJ Hill, Selwyn Burns, Roger Knox and Kutcha Edwards.
Artwork by Dixon Patten.