Fri 22 Nov 2019

to

Sun 24 Nov 2019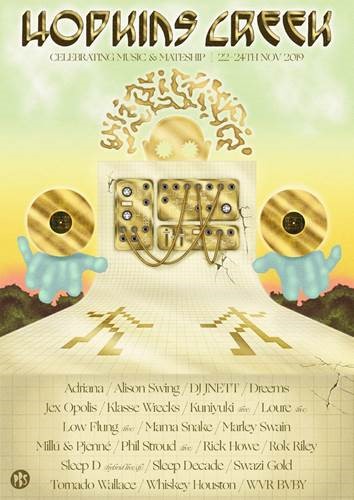 Hopkins Creek welcome their friends and family back to the countryside this November for the fourth annual celebration of music & mateship.

Employing the natural mystique & wonder of a magnificent volcanic crater in Victoria's Western districts, Hopkins Creek once again intends to harbour the joys of intimacy within a setting that appears remarkably infinite. For this reason, tickets are strictly limited. 
Experience a unique journey through light & sound led by a diverse range of Australia's most alluring musicians, producers and DJ's as well as a small selection of overseas guests.
Plus a growing team of visual and conceptual artists busy pouring their creativity into new visions, features and installations while to create new exciting spaces and structures. Hopkins Creek are also excited to be partnering with resource recovery team Be-Alternative to improve even further on their environmental standards for the event after last year's free bottle scheme that helped in eliminating all plastic bottles from the event.
Tickets available now via Eventbrite.  
FULL LINE-UP
Adriana 
Alison Swing (USA)
Dreems 
Jex Opolis (USA)
JNETT 
Klasse Wrecks (Luca Lozano B2b Mr. Ho)
Kuniyuki (JAP) (LIVE)
Loure (LIVE) 
Low Flung (LIVE) 
Mama Snake (DEN) 
Marley Swain 
Millú & Pjenné 
Phil Stroud (LIVE) 
Rick Howe 
Rok Riley 
Sleep D (Hybrid Live/DJ) 
Sleep Decade 
Swazi Gold 
Tornado Wallace 
Whiskey Houston 
WVR BVBY
Proudly Presented by PBS.