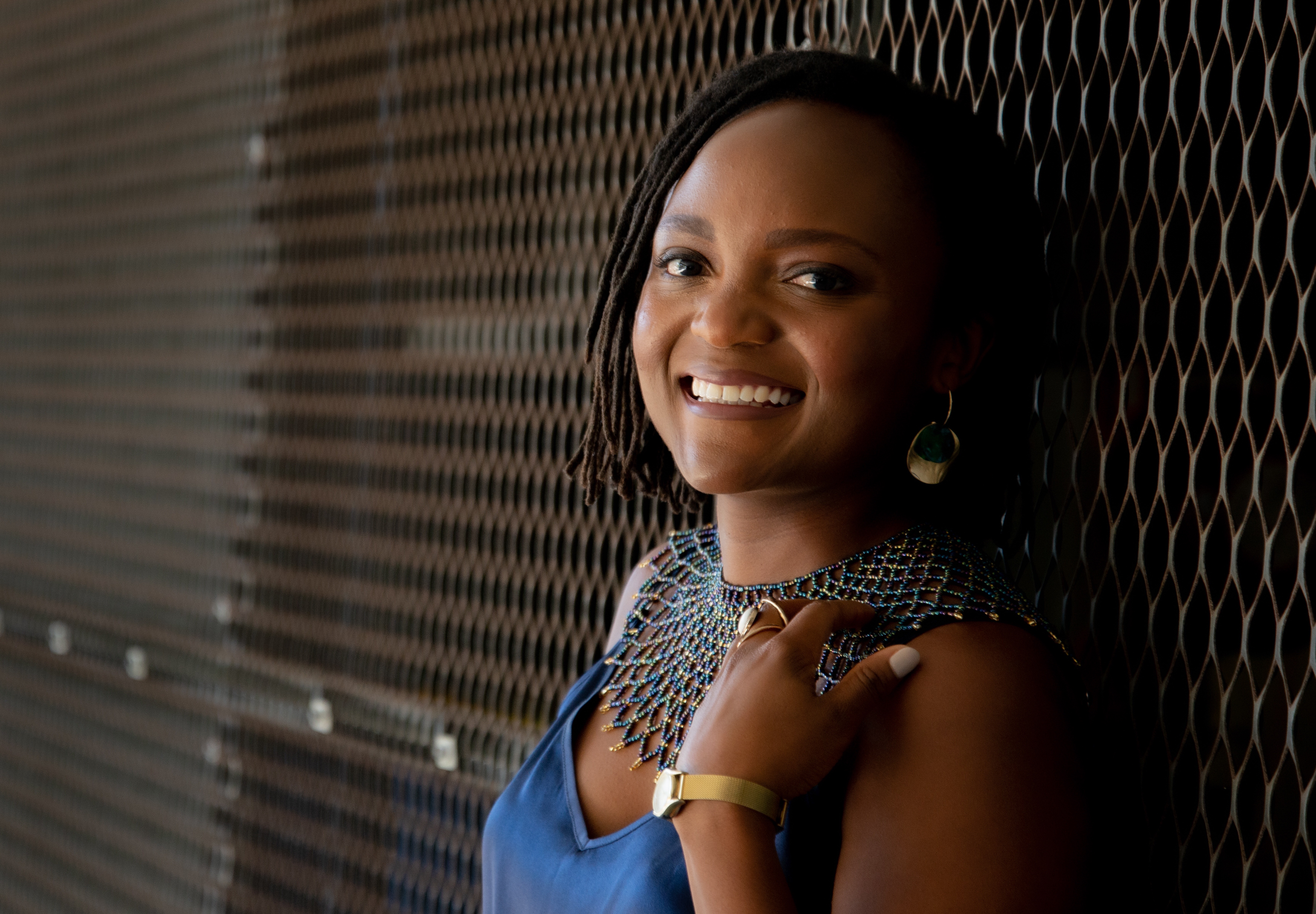 This announcer spotlight was first published in our biannual member magazine, Easey Mag, December edition, 2020. As we have just passed Afro Turn Up's 4th anniversary, we revisit this fascinating insight into the life of the wonderful PBS announcer, Kix.
If you've tuned in to PBS on a Friday night at 10pm, you would have heard a warm welcome in five different ways — sanibonani (Zulu), maswera sei (Shona), jambo (Swahili), akwaaba (Twi) and welcome (English)— on Afro Turn Up presented by Kix. 
Starting in August 2017, 2-6am every second Friday, Afro Turn Up moved to its current timeslot in April this year. That same month it also started broadcasting nationally on the Community Radio Network. Sonically, it's described as the, "Sound of young Africa featuring Afrobeats, Afro-house and Afro-pop, African hip-hop, African dancehall, kizomba ... basically whatever is hot." Kix could well be viewed as a real-life superhero: by day she fights financial crime, by night, she is a podcast producer as well as a PBS radio announcer.  We delved deeper with Kix to talk about her story…
What was your life like in Zimbabwe and the US? 
Growing up in Zimbabwe was a pretty regular existence for the most part up until the early 2000s. I grew up in the suburbs of Harare, the capital city. Things that I fondly remember about my childhood were playing mahumbwe, playing with mud, baking mud cakes etc, and climbing trees in our yard. We had an amazing guava tree and sometimes I would pick a guava and eat it while sitting on a branch, then repeat. I never worried about snakes or falling— ah, youth. 
School was very important to my parents, especially the academic component. I also played sports, the main one being field hockey which I was quite good at, and which later on helped me fund my education in the US. In the early 2000s Zimbabwe's economy took a plunge and sadly that negatively impacted the tertiary education system among other things, so I left Zim to further my studies in the US.
I had a lot of misconceptions about the US. TV is a lie, y'all! It was nothing like Saved by the Bell or The Fresh Prince of Bel-Air. If you've read Chimamanda Ngozi Adichie's book, Americanah, then that pretty much sums up how I experienced America. 
The race issue cannot be understated. Even though I did not grow up in the States, as a black person in that environment you quickly learn that blackness in America carries with it a lot of negative perceptions that have real implications on your life and wellbeing. It was a real culture shock. But I did also grow a lot as a person thanks to the education I received and interactions I had with my classmates and later, co-workers. I really blossomed into a critical thinker. 
What drew you through the doors of PBS?
The first thing that drew me to PBS was the quality of the programs that I'd heard on the station. When I decided that I wanted to explore becoming an announcer, it was really important to me that I learned from people who do it well. Secondly, I love the diversity of genres presented on PBS—you'll be hard-pressed to find another station in Melbourne that can match PBS in this regard. This signalled to me that PBS is serious about being a platform where underrepresented music is heard. It was especially encouraging to see Stani Goma's show, Flight 1067 to Africa, on the grid.
What inspires your program?  When you look back on 2020, what will you remember?
This year has been very exposing and there are many things that can be learned from it if we choose to. I think we've seen that societies that have vast inequalities are not sustainable. It's in everyone's interest to ensure that we uplift each other, especially those most vulnerable. We need more Ubuntu or Hunhu—a Southern African philosophy which speaks to seeing the humanity in others.
The murder of George Floyd in the US and the subsequent Black Lives Matter protests are a reminder that we are still far from a post-racial global society. Racism is not just a US issue, which is why we saw protests taking place all over the world including here in Australia. The days of gaslighting black people when we speak of racism are over. So I guess in a way that's a starting point for more honest conversations about racism, in all its forms, which I hope will lead to positive transformation of our societies.
I just want to make a show that makes my community feel seen and heard—to make people feel welcome and that they belong.
Kix presents Afro Turn Up every Friday from 10pm-12am on PBS.