Thu 17 Sep 2020

to

Fri 25 Sep 2020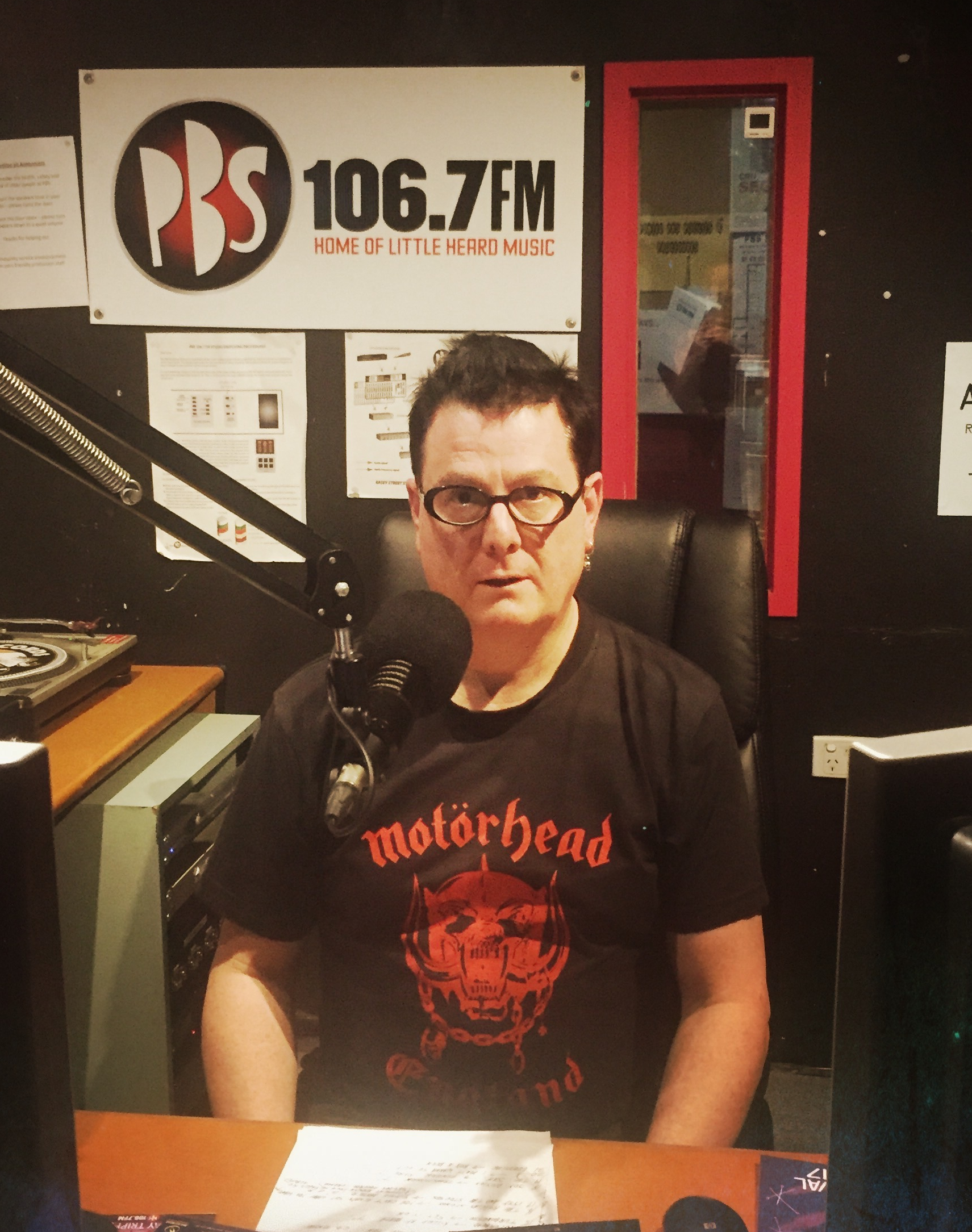 This September, Phil MacDougall aka the Prince of Darkness celebrates 40 years of volunteering at PBS. These momentous occasions warrant huge celebration and ideally we'd be putting together a smashing live gig to really honour the commitment Phil has put into the station and the immense impact he's had on the local punk scene. But alas, that's not to be in 2020, so instead, we're taking a deep dive into the past and chatting to the many musicians Phil has supported over the years. Enjoy!
The rich origin story of this iconic announcer has been well covered over the years by the likes of The Age, Tone Deaf,  Vice, The Munster Times, Rhythms, Magnetic Visions zine and several times in PBS' Easey magazine.  In case you missed it, Phil was introduced to the station by high school classmate Leon Richardson, both already broadcasters at 3CT Monash student radio in 1980.  Leon said "PBS was grassroots, and had a direct line onto the street." 
That street was in St Kilda, broadcasting live from the Prince of Wales. Phil played 60s garage tracks from/inspired by Lenny Kaye's Nuggets on Classical Gas (1980-1984) co-hosting for a short while with Mario Borelli. The following year he added hardcore and thrash on Roadrunner (1981-1987). And Phil was part of a rotating crew presenting punk programs on Wednesday and Saturday nights. All these programs culminated in Sunglasses After Dark starting in 1985.  Phil also presented the station's first hardcore rap program Rap Attack (1989/1990).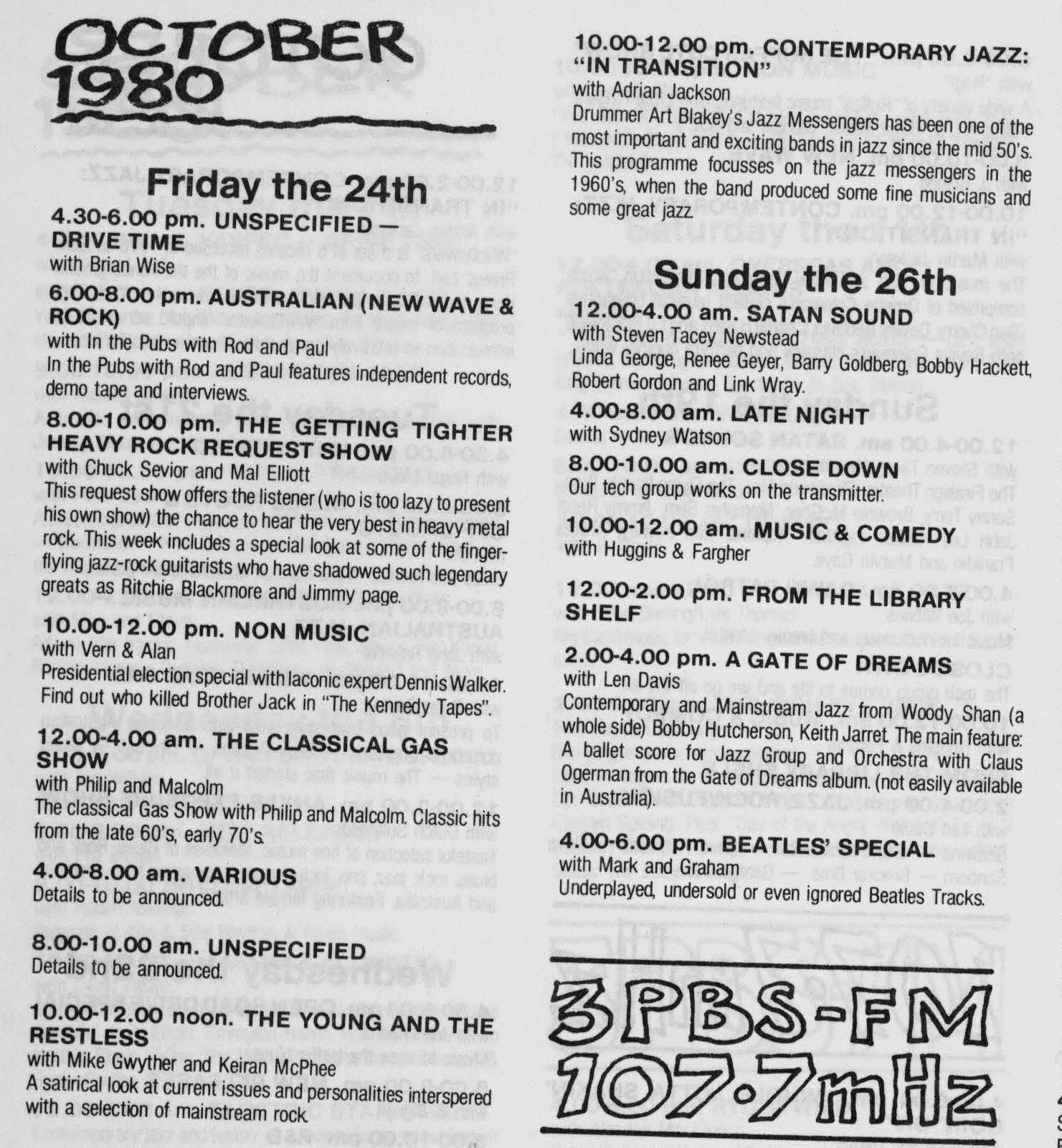 With a name taken from one of his favourite bands The Cramps, MacDougall championed punk and rock and roll, local and international, including but not limited to Bored, The Powder Monkeys/ Tim Hemensley, Sixfthick, Intoxica, The Specimens, Gazoonga Attack, Hard-Ons, X, Spencer P Jones, Digger and the Pussycats, Little Murders, The Mark Of Cain, The Birthday Party, The Onyas, Spazzys, Wrong Turn, Johnny Casino, I Spit on Your Gravy/Fred Negro, Box of Fish, The Meanies, Venom P Stinger, ECSR, Exotics, Hybernators, Hits, Feedtime, The Breadmakers, TISM, Brigette Handley and the Dark Shadows, Dirty Three, The Drones, The Datsuns, The Living Eyes, The Scientists/Kim Salmon, Magic Dirt, God, Batpiss, Bits of Shit, Ollie Olsen/No, Snog, The Cassanovas and the list goes on.  
"Once in an interview, Bill Walsh (Cosmic Psychos) said I've played just about every alternative/independent band from Australia from 1976 'til now" says Phil.   
Revered for his quick reference encyclopedic music knowledge fellow announcer Rodney Shah recalls a time when:
"Memphis band Nots played the Tote a couple of years ago. They did a short encore at the end of their set. Partway through the 2nd song, Phil turned round to me and Glenn O and said "'TV OD, The Normal, it came out in 1978, it's the guy from Mute Records.' He has picked out this obscure cover the band are playing, given us a bit of lesson on the song and the next week on his show plays the original version."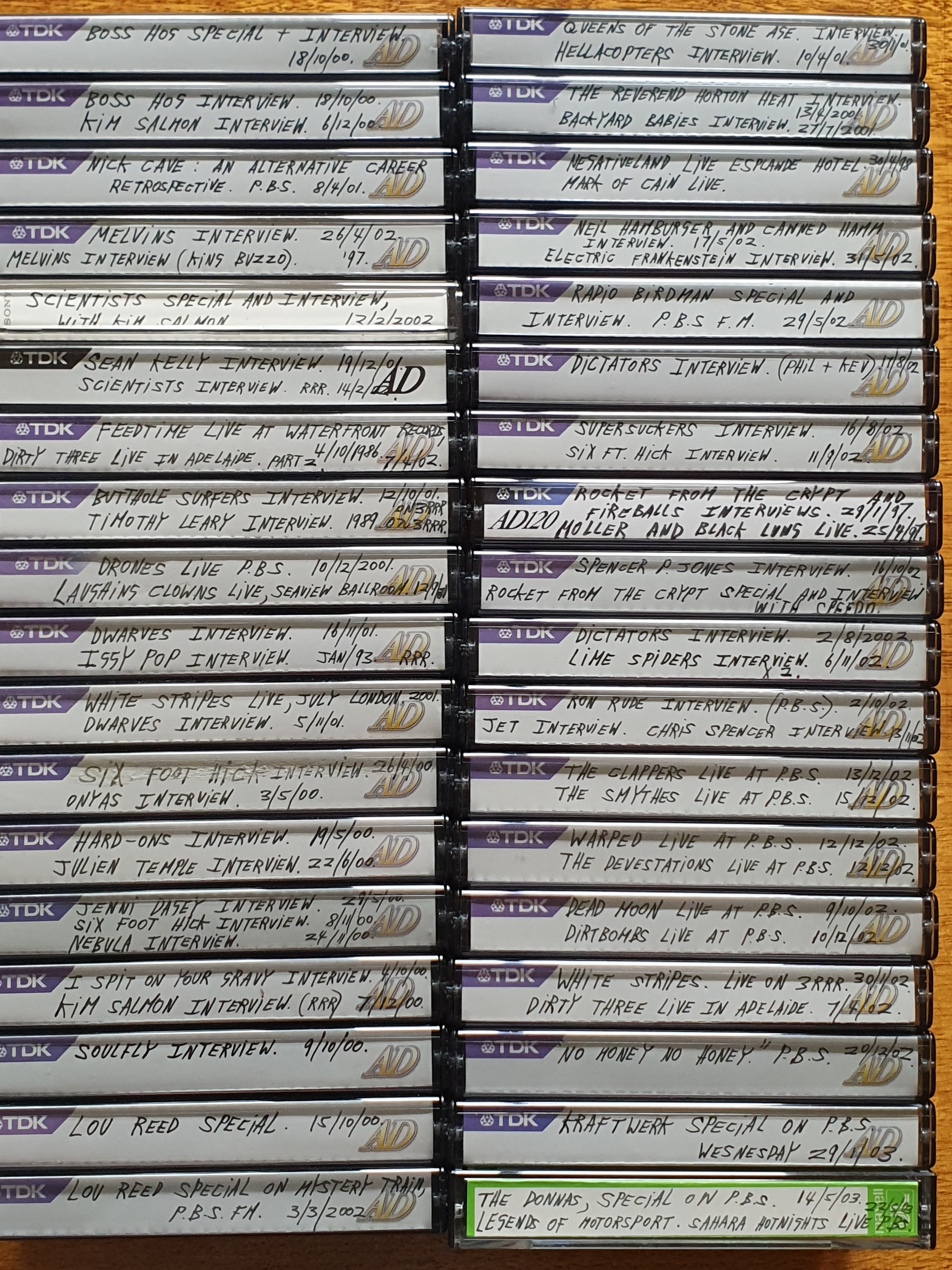 There's been many musical highlights over the four decades, including interviews with musical heroes Steve Lucas from X, Hard-Ons, Turbonegro, Jaz Coleman of Killing Joke, Marky Ramone, Jello Biafra, Wayne Kramer, Dennis Thompson and Michael Davis of the MC5, L7, and when John Lydon came out with PIL in 1985, off the record, "he said he liked my hair!"  
On Wednesday 19 of December 1985, Phil MacDougall and Declan O'Gallagher interviewed PIL lead singer John Lydon and drummer Martin Atkins at the Old Melbourne Hotel in North Melbourne.
Listen here *Language warning*
As for PBS highlights? "It's been great to see that the station has survived for over 40 years and has grown to be the best community radio station in Australia. I'm very proud of it. Also making so many lifelong friends through PBS." Some of which include local legends The Exotics, who said: "One of the best things about him is that he is a genuine music fan, unpretentious and dedicated, and we are so very, very grateful to him."
For Phil, what does the future of punk hold? "Punk in some shape or form will always be with us. As Don Letts says:  There's always going to be punk going on. The punk aesthetic will never die - it will keep going with cutting edge music.  Guitars, samplers, weird electronic music - that's punk to me". 
Listen back to Sunglasses After Dark: the 40th-anniversary show Part I here
Listen back to Sunglasses After Dark: the 40th-anniversary show Part II here
Would you like to add your congratulations? Click here!
Congratulations Phil from:
"Congrats on 40 years Phil! All us artists appreciate your amazing support and dedication to OZ music, you're an absolute legend!" - Adalita
"Congrats Phil, 40 years young. The Prince of darkness bringing light to Thursday nights" - Adrian Basso Station Manager PBS
"Phil MacDougall is one of the reasons Melbourne has a thriving live music scene, he has always been a great supporter of the Exotics, and every other band we have ever been in from the Corpse Grinders, Wet Ones, Intoxica and more.  For 40 years, his show has been the place to go to hear things you couldn't hear anywhere else, especially new local bands, he would give their demos an airing, no matter how crappy they were! One of the best things about him is that he is a genuine music fan, unpretentious and dedicated, and we are so very, very grateful to him" - The Exotics
"Phil has always been the epitome of everything that's great about PBS and if you've got a couple of weeks he'll tell you everything that's great about music...usually twice! I'm honoured to know him and the fact that he loves the nickname I gave him all those years ago" - Bill Walsh
"Hey Phil, what a celebration this is. Who can really believe you have been producing a weekly radio program for 40 years on peebs. Honestly, it's so hard to wrap ones head around, though speaks volumes of your love, uniqueness and sheer dedication for bringing some of the most exciting sounds to life, bursting out of our speakers and blowing our synapse's away! Your passion, skill, determination and knowledge stands alone, where you have gained such deep respect from so many musicians/artists" - Richard Martin - Emeritus 3PBS-FM Staff Member, Sec & Chair
"Philthy Phil's 40th year on the air, what a legend! Thanks for being so supportive of Independent Australian music for so long. Look forward to writing a 50th-anniversary card in 10 years, by which time the Prince of Darkness will evolve to the King of Darkness Xoxo"  - Jake, Ausmuteants, Alien Nosejob, Smarts, School Damage, Drug Sweat, Hierophants, Leather Towel, No Limit, Swab, The Snoozefests, The Frowning Clouds
"Congrats Phil on 40 majestic years. Thanks for being such an encyclopaedic source of musical information. Lux Interior would be proud! Looking forward to seeing you in a real live band room one day soon. Cheers" - Ems 
"PBS is a truly unique radio station.  For 40 years the station has been an organic and dynamic meeting place for a disparate community of volunteers all connected by their love of music.  For almost that entire 40 year period Phil 'The Prince of Darkness' MacDougall has been on the airwaves sharing his vast collection of music – mostly on vinyl – with Melbourne's underground music fans.  Over those 40 years Phil has broken local acts, championed obscure internationals, and been a stalwart of Melbourne's vibrant live music scene and record store culture.  Importantly Phil is one of our great characters. Like Superman changing into costume in a phone box, Phil arrives at PBS a mere mortal but then transforms into something truly unique the moment he sets foot in Studio 1 every Thursday night at PBS. A time will come when we can stand shoulder to shoulder with Phil at a Melbourne venue and share a pint and a few stories about his 40 years on-air.  For the time being, we'll just have to tune in every Thursday night at 8 and be grateful that The Prince of Darkness is as passionate about underground music in 2020 as he was in 1980" - Owen McKern Program Manager PBS
"Phil The Prince of Darkness! A man who has been stalking the heavier music scene for a long time is doing his 40th year on PBS! WOW! He not only inspired me to join PBS, he saw how much I was into music when he was at a party at my place back in the 80s, said I could do a radio show with all that music, I kind of doubted it, but I gave it a go & discovered that I liked it! 34 years later I am still doing a show, thanks to him. He has always been into collecting the latest music, seeing live bands & he plays the latest stuff locally and overseas & despite 40 years his show is still fresh. Well done getting to this milestone & may you continue for years to come! He plays the best of punk, garage and goth type music & it's always a treat to listen to!" - Kev Lobotomi of Shock Treatment on PBS
"I have known Phil MacDougall for close to 40 years and during that time he has been a constant presence with 3PBS, presenting his weekly radio show Sunglasses After Dark. Every week without fail, he manages to present a great selection of music that crosses many boundaries, but is mainly focused on punk and post punk music. He has an extraordinary collection and knowledge of music and has introduced myself and other listeners to so many artists that I was not familiar with. The fact that he is still presenting his show after 40 years is incredible, every week his show is different and is great to listen to. Phil has always been a great supporter, both in attending gigs and of buying music, that is both local and international. He has been of great assistance in introducing and assisting me to 3PBS, where I now present the show Junkyard on a weekly basis, and have done now for over 10 years. Well done Phil and keep up the great work, your pal Mike" - Michael Mullholland – Junkyard on PBS
"Congratulations Phil on forty dedicated years of presenting your favorite music on PBS. I remember when there was no daytime broadcasting on PBS until 4pm. I'd tune in just before to silence then out of the dark you'd hear the fuzz guitar sound of the Cramps and the intro to Sunglasses After Dark and you knew you were in for a listening treat. I've been subscribing to the show continuously since then, 35 years. Well done Phil"- Geoff P
"Phil is not just a DJ or a record collector, he's a legend! Everyone in Melbourne knows Phil. He's as passionate about music as they come, and quite entertaining to boot! It's never boring when Phil's around!" - Kristen Solury - Bleeding Black Hearts Revue on PBS
"Sunglasses After Dark has been at the forefront of promoting both local and international punk and garage for 40 years and is still going strong. When he's not on air, you'll find Phil at live gigs seeing the latest and greatest or at local record shops, scouring for the best new releases. All of this tireless pursuit is so that he can showcase the best possible music on air every week, for all of us to enjoy. He's a fantastic announcer, a living encyclopaedia of music knowledge and a great human being to boot!  Congratulations to Phil 'The Prince of Darkness' MacDougall for his amazing achievement in on -air volunteering with PBS FM - an outstanding contribution to the musical landscape of Melbourne.  We are lucky to have you. Long live The Prince!" - Garry Seven – Former PBS Program Manager & announcer
"Congratulations Phil on 40 years in radio. A legendary effort and a huge contribution to making Melbourne the music capital of the world. As a muso and a label owner, we salute you" - Loki Lockwood - Spooky Records
 "The amount of new music and incredible artists Phil has introduced to me over the years is incredible, Phil is always looking forward and works tirelessly to expose the best damn music on the planet. Congratulations on 40 years and cheers to 40 more!" - Billiam of Disco Junk
"Over the thirty years I've known Phil, he has not changed. In the best possible ways... he's maintained his unique, youthful, playful, understated, cheeky charm, and the sight of him gently, quietly working a room at a gig in any of the dark smelly Melbourne venues, still makes many of us neurotic, self-conscious musicians feel calmer, safer and reassured... we know we're in the right dark, smelly Melbourne venue that night! Most importantly, his absolute commitment to music has never changed. His generous, open mind and spirit still ensures every local band worth their weight gets a spin on radio, and that alone makes us feel appreciated and a part of something bigger than ourselves. A community. Musicians might be the spokes, but he is the hub of this funny, alive, evolving, prolific, silly music scene we all love and depend on. Not sure how a centreless wheel can spin... let's hope he still hangs around in some capacity, so we never have to find out!" – Katie Dixon of Baby 8/Powerline Sneakers/Ripe
"Happy 40th Phil! You have always been a strong champion of all things punk and underground. When I was knocking on the PBS door in 2012, you gave me opportunities to fill in on your highly esteemed show - your belief gave me further confidence to have a crack at broadcasting. Before this, I was blown away when a 7" on my label got Record Of The Week on Sunglasses After Dark, showing you're constantly interested in what's happening in the moment. A fond PBS memory is us trading vinyl from our respective labels (Psychotic Maniacs!) and personally, there are other examples of your generosity. Yet on a wider community level, forty years of unpaid public service clearly reflects your selfless spirit and enduring passion. Cheers mate!" – Peter Bramley Club It To Death on PBS
"Congratulations to one of Melbourne's longest standing punks. 40 years at PBS is an enormous milestone, keep up the great work Phil, you legend!" - Billy – Antifade
"'I got something to say to you and you better listen - I'm gonna tell ya how to be cool in one easy lesson, Go! Sunglasses after dark... aaah, they're so sharp. And you'll be cool...' I will never hear these lyrics from The Cramps without thinking of Phil MacDougall. I love that these words have consistently symbolised the start of Sunglasses After Dark for forty years. To me, they also symbolise the consistency of Phil, who has maintained the same commitment to the music scene for all the years I've known him, the same excitement about collecting records, the same interest in finding new bands, the same haircut and the same passion for PBS and its audience. He has an absolutely unwavering love of music and broadcasting. No matter what is happening in Phil's life, when he turns on the mic he is on. I love seeing him in the PBS studios where he seems most relaxed. It's his natural habitat, perhaps even more so these days than the back of the pub. Phil has been a constant source of guidance and inspiration for me for the 25 years I've known him. His feedback is sometimes brutal and always correct. He makes time for anybody who shares his passion, regardless of age. He is probably completely unaware of the pearls of wisdom I've learned from him in random conversation. If I've learned anything about being cool, it's from the Prince of Darkness. He's one of my favourite people - yeah, yeah yeah. I really love that guy, even though he won't show me his records. Happy 40th Sunglasses After Dark, long live the Prince!" Claire Stuchbery Friend for Life to Sunglasses After Dark and Firewater announcer on PBS
"That's a real achievement in this day and age. Salute to Phil!" - Mississippi Records
"I found this invite to Phil's 40th birthday - hard to believe it was 30 years ago - back when punk rock hadn't been compromised by "grunge" or "alternative rock". It was also a time when we all drank and smoked to our hearts content and, being young and poor, everybody botted smokes off each other - except Phil's. He'd cleverly taken up Menthol cigarettes and you had to be ultra-desperate to want one of those. I've been serving The Prince of Darkness in record stores for almost 30 years and for him to have reached 40 years is an incredible achievement. He can still be found lurking at Strangeworld every Friday afternoon, having played a bunch of titles the night before that were picked up from our store that caters to The Prince and his listener's needs. Congratulations Phil, I look forward to the next 30 years of Sunglasses After Dark, which, by the age of 100, you might be ready to retire..." - Richie Ramone - Strangeworld
"Phil is ra eally great bloke. I always see him at the best shows in town or at the PBS parties and he is always keen for a yarn. His show is exceptional and was one of the reasons I got into radio. Love your work Phil" - Ruby Koomen Garageland on PBS
"I really respect Phil's enthusiasm for, and knowledge of the music that he loves. Whether it's the latest Cramps bootleg, some hardcore punk from the 80s or the first 7" single from a bunch of snotty kids that no-one has heard of, the Prince of Darkness will buy a  copy, play it on his show, and sing its praise to the rest of Melbourne, and he has been doing this consistently for 40 years.  Cheers Phil" - Rodney Shah
"Phil is one of the main reasons I listen to public radio. Tuning in to SAD every week always introduces me to new, usually great, bands I have never heard. Phil is a great gig mate; our musical tastes are very similar so we tend to be eyeing off and attending the same gigs each week (well, pre-COVID, that is). Phil's house basement is like Santa's (or Satan's) workshop, filled as it is with filing cabinets chock-a-block with the rarest and most amazing vinyl and CDs.  He has so many original pressings of the greatest punk, no-wave, indie, alternative, rockabilly, grunge and hardcore releases. While he cares deeply for his record collection, he can also be generous and has lent me some very rare original Foetus LPs to play when I was doing a Jim Thirlwell special many years ago. He also has wonderful band posters on his walls, including one of his (and mine) all-time fave bands, The Cramps, and skulls and other creepy exhibits on his mantles and shelves. Don't get Phil wet – he hates the rain. Perhaps The Prince of Darkness will melt if he gets wet…" - Glenn O - Friend, longtime listener and former PBS announcer Burning Ether 1989-1991
"Congratulations to Phil. What an absolute legend" - Hard-Ons
"Sunglasses After Dark - the show is legendary.  40 years - wow! That makes it hard to say when I first met Phil, but it is easy to say he has been as consistent as loyal both professionally and socially since day one. Phil is a music fan and an exceptionally knowledgeable one at that! Always a 'must see' presenter when it comes to finding support for gigs and new releases, his show is also one of the most popular to listen to in my opinion. He is undeniably one of the key stones in the foundation of Melbourne's music scene and one of the most sincerest men I have met in the industry. Congratulations on behalf of X,  Bigger Than Jesus and just about any other band I have been in. You rock!" - Steve Lucas
"I met Phil officially much later than I first spotted him at live gigs around Melbourne.  I'd moved from Perth in 1990 and so Melbourne really was the 'big black smoke' for me and Phil was one of the first people I 'noticed' out at live gigs because he really stood out as an avid music fan.   At that time Phil looked one part obsessed record collector with his heavy framed glasses, one part American 'punk' with his long thin legs and one part 50s rock n roller with his swept back hair. Needless to say he stood out in the crowd as a guy who did his own thing. When I started my band DollSquad in 2003 I did a pigeon hole drop at PBS like you do and one of the first programmers to contact me was Phil and he had been highly recommended to me by other bands. When I went into the interview I was surprised to see this was THE guy I saw at gigs but I never put two and two together.  I was not at all surprised, just pleased. I think one of the best and commendable things about Phil is that he does not change.  He still looks the same way today that he did when I first remember seeing him.  I guess he doesn't age because his sincere and intense love of rock n roll keeps him young. He is who he is and he promotes what he likes, casually ignoring all fads and commodities. Being on the receiving end of his interview questions was always refreshing because his passion for the indie music scene was always evident in his in-depth and interesting interview structures.  
 I very much respect Phil as one of the intelligent, and leading voices in the indie music scene because he is one of the few men that has never treated DollSquad like a 'girl band'.  He treated it like 'a band' and his descriptions featured the songs and the substance of the band as much as the 'look' which was undoubtedly comment-worthy. Phil got all of the 'inclusions' in the song titles and lyrics, all the deliberate references many others missed, ignored... or didn't get. This instilled a lot of trust in the interviews we did together throughout the years and made me respect Phil on a whole new level. And, I want to point out this was long before we all witnessed the unfair imposition of compulsory (and what I feel are insulting) 'quotas' for female acts on the music and other industry sectors. Phil didn't and still doesn't give a damn if you were male, female or anything in between.  All he cared about was – did your music meet his qualifying criteria of being good fun rock n roll?  I think Phil is an asset to PBS and to the Melbourne indie music scene. I am glad I know him and I am always grateful for his kind and enthusiastic support of DollSquad in the past" - Joey Bedlam - DollSquad
"I'm not one to acknowledge any kind of royalty, but the Prince of Darkness is one person I'll bow down and hail any day. I first discovered Sunglasses After Dark on 3PBS when I was 16. I was channel surfing trying to find something different to the blah that was mainstream radio. Then on one Thursday evening I heard the Cramps, the Ramones and Television all in one broadcast. Of course I knew those bands but they almost never got played on radio. I was hooked straight away and for the last 15 years I've listened to Phil almost religiously every Thursday. One of the reasons I love and still listen to Sunglasses After Dark is you expect the unexpected. One night Phil will play the hits and standards of punk/garage classics, then the next week he'll play rare punk 45s from Australia and overseas, stuff that I'm almost certain would have never been played on Australian radio. And it's not just punk and garage. industrial, metal, techno, as long as it's interesting Phil will play it. And while Phil plays classic tunes from household alternative bands everyone knows, he'll also play any local band that will send him a demo. If you want your bands first exposure, Phil is more than happy to help, often giving bands there first airtime.  For me personally, I met Phil for the first time upstairs at the POW for the Bitter Sweet Kicks LP launch. After seeing him around at gigs for a long time by chance we happened to be standing next to each other and I mustered up the courage to say hello. I casually mentioned I did a zine and he joined the dots and figured it was me who did Munster Times. I was so stoked he knew of my work and was a fan. He even gave me some advice which was very generous of him. After the initial introduction we then started to say hello to each other at gigs and became fast friends. Phil has been very generous in having me on the show several times, and was very humbled to be asked to present a two hour special on The Fall alongside Phil and Michael Mulholland. On top of that Phil for the past few years has had me on during PBS' Radio Festival, and he always reviews my zine, every single issue. While being on the show and also getting the chance to interview him for Munster, probably one of my most cherished moments was when I texted Phil while on air and Phil read out my text and said I was a part of the show. If you had told that kid in Dingley listening to Sunglasses in my parents' house I would have marked out if I had known that would happen. Aside for all the great music, another reason why I love listening to Phil is the fact he still gets a kick out of presenting a show every week, even after 40 years. He still loves interviewing people and discovering new and exciting music, local and abroad. I hope I feel the same way with music in years to come. So Phil, congratulations on 40 years on air at PBS, I can't think of a more influential DJ in Melbourne's rock community then you.  All hail the Prince" – Matt -  Munster Times
"Thanks for your brilliant and educational weekly installments over the past 40 years. Congratulations Phil" - Mark Heydon
"Good work Phil I'll give you 10% off next time you are in. Paul" -  Heartland Records
"Followed Roots of Rhythm for quite a while in the '90's, I soon realised the breadth of Phil's passion for music, when he would ask me about a particular track or three I had played. His knowledge & enthusiasm was quite amazing. I still tune in from time to time. A big congratulations & thank you!"  - Helen Jennings OAM Roots of Rhythm
"Phil still has the same passion for music as when I first met him at 3PBS when it was located in Fitzroy Street St.Kilda in the early eighties. Long may it last!" - Paulie Stewart Painters And Dockers
"Sunglasses After Dark is 40 years young. Thanks for all the tunes Phil, Melbourne's music scene couldn't be what it is without you. Long Live The Prince" - Shelley McNicholl
"It wouldn't be a Thursday night without you going over time! I hope it continues for another 40 years. Congrats on a massive effort of 40 years - you haven't aged a bit. " - Gary Carson of Screaming Symphony
"Congratulations Phil on 40 years on PBS. Here's to many more" – Alex Sims
"Good onya Phil. 40 years. You deserve a golden safety pin for your commitment to punk rock! Keep up the good work" - Denis Leadbeater
"Phil, Congratulations of 40 killer years of punk rock radio. We look forward to many more years of Sunglasses After Dark, cheers" - Tim and Christina of Teenage Hate, 3RRR 
"Congratulations Phil! 40 years of the Prince of Darkness. What an absolute treat" - Alicia Saye
"The truth about Phil; he is not actually wearing sunglasses at night but that has never stopped him. Thanks for all the great music, interviews and for being supportive to everybody around. Such an inspiration. Phil, you are the perpetuum mobile of PBS. On to the next 40!" Peter Fundeis - Screaming Symphony
"Ahhh Phil, some of my favourite live music moments are arm in arm with you at Cherry Rock! You've been a staple at PBS for me, so kind and warm and keen to share a story. I love catching your show knowing how many people you are making happy by simply sharing your passion and love of music. Happy 40th year on the airwaves. You have made Melbourne a happier place for so many and we are so lucky to have the opportunity to broadcast beside such a wonderful human. Congratulations!" Lyndelle Wilkinson - The Afterglow
"Hey Phil - congratulations on 40 years with PBS, and thanks for being such a great supporter of Melbourne's underground music scene. The knowledge and enthusiasm you bring to your show every week is infectious and inspiring. After all this time though, shouldn't you now be upgraded some kind of king of darkness? Looking forward to seeing you in person again soon" - Jurgen (PBS Board chair/Prince of Dorkness) 
"I have no story. The story is Phil himself. A lovely man and a fantastic achievement. Here's to the next 40 years! Best regards" -  Richard Noble
"Congratulations Phil, what a fantastic contribution. Well done. As a "Gospel Guy" I can't say "Darkness" is really my thing, but BIG respect to you!" - Pete Miles from The Gospel Show
"Congratulations Phil. Absolute legend" - Dingo
"Congratulations Phil.  I remember first meeting you at the St. Kilda studios.  I think my show followed yours then.  What a dedication you have shown over all these years.  You are a legend! X" - Jan Dale, Southern Style
"When I was a frustrated and angry teenager in the mid 80s I came across Sunglasses After Dark up the end of the dial and was introduced to Arm The Insane, Gash, The Hard Ons, Where's The Pope etc...etc...etc... I was a student at a wealthy private catholic school and Phil's show helped me to realise that I wasn't such a weirdo, outsider, loser and that there were other people around like me that felt like me. Thanks Phil and congratulations - an amazing effort" - Phil Adami
"Not many people get to live 40 years let alone broadcasting a radio show as a volunteer, for the love of the music. Thank you for such long term commitment to PBS, our oasis of underrepresented music in a desert of commercialism and money-driven radio. All the best" - Saúl Zavarce, Fiesta Jazz
"Congrats Phil, you're a legend!" - Nichola Scurry
"Phil's knowledge is unfathomable, and his taste is spot-on. While I know I'm often set to hear some classics on Thursday nights, there is always something unheard, something underneath, something new to hear, and this comes from his passion and commitment to listening to the fresh stuff as well as what's come before it. Saying that Sunglasses After Dark is an important show is an understatement, and Melbourne wouldn't be the same without it" - Kurt from Homebrew
"I was always so impressed at how professional Phil was. Managed to have a cool intro song, do proper research and back-announce the songs correctly. Introduced everyone to such cool and obscure music and he knew everything about every cool band. Best record collection in Melbourne! Congrats on 40 years (although if I'd be asked in the 80s who was most likely to last that long, it would've absolutely been you!)" - Jacqui (former PBS Weds night punk announcer 1987-1994)
"Before I meet Phil I thought I knew a lot about heavy music I've known him for nearly years and he still surprises me with information his passion for music is contagious. He's the godfather of heavy music at PBSFM" Kene Lightfoot, Burning Bitumen
"I can't even begin to comprehend the amount of punk knowledge Phil has inside his brain. He always has the best music to share with us! Keep on rocking mate!"-Jordan from Underground Love
"Phil - people throw the term legend around pretty loosely these days, which gives me the shits no end. But you really are a legend, in the truest sense, of Melbourne, of punk rock, and PBS. I miss our chats in the music library and bumping into you at shows, but still feel connected to you via Sunglasses. The dark magic of radio. Up the punx!"  - Cam D
"More than a legend, Phil is an icon. He digs further and mines deeper, finding rich veins and bringing his finds to the surface to share with the world" - Matt from The Juke Joint
"I started listening to PBS FM 11 years ago when I moved to Melbourne; mainly because one of my friends said there was great soul music programs. But Phil quickly became my most listened to host with his vast array of alternative rock and punk. He has brought me back to bands I didn't understand when I was younger and introduced me to a shit ton of acts. I love his knowledge and get to the point announcing" - Campbell
 "Prince your commitment and loyalty to the 3PBS cause has been nothing short of amazing. Week in week out you have tireless researched the band or artists that you interview for the show and put together a weekly radio show that ranges from Rockabilly to hardcore punk to Gothic to 60's punk and garage to post-punk and Industrial music" -  Andy Fish (first message)
"I would like to officially nominate The Prince for the yearly Mick Geyer Award. In keeping with the celebration of 40 years on 3PBS RADIO, lets put Phil's name forward for this award for excellence" - Andy Fish (second message)
"When the wind was just right and the moon was at a certain stage in it's cycle, I'd be able to tune into Sunglasses After Dark from Barwon Heads, and have my ears opened to the most amazing sounds! Sometimes, the static slowly took over the show, but I wouldn't turn off... just in case! Thanks for introducing me to so much great music Phil!" - Brent Blister - The Blistered Minds
"Well Done, Phil. You were there at the start of Community Radio in this town and still going strong. 40 years! Absolutely amazing!" - Tom Sianidis, Jumpin' The Blues
"Well done Phil on 40 years of great programming and thanks oh so much for supporting The Meanies for 30 of those 40, can ya believe it! The world of radio just wouldn't be the same without you, the good thing is we know the Prince of Darkness is immortal so here's to you doing your show forever, cheers mate" - Wally Meanie
"I've known Phil for close to 40 years as fellow PBS punk presenter from 1984 to 89, as drummer in various punk bands, and from seeing him weekly along the Fitzroy Street strip or at his house for a cuppa. Three qualities defined Phil in my view: His passion for alternative music, his joy of sharing that passion with others and his integrity as a human. Phil is a humble guy who is servant heart is bigger than his sizeable record collection! Congrats Phil on 40 years. What an amazing achievement" - Dave Ross, former PBS presenter and musician
"40 years! Congratulations Phil!
Endless support for Melbourne's punk scene.
Thursdays just wouldn't be the same without you.
Big love" - STIFF RICHARDS
"Heck yeah Phil! What a major milestone devoting a solid 40 years of championing our savage, untamed nature!!! Thanks for letting it loose, tearing up the airwaves and impressing the minds of outcasts far and wide. AAAARGH!!! All hail the prince!" - Parsnip
"I remember being in the office at PBS in Fitzroy Street and Phil was also there. A lovely gothic lady came in to collect a giveaway (I think) and she might have known Phil. Seeing both of them standing at the reception desk, then and there was the perfect photo opportunity to capture the Prince and the Princess of Darkness for eternity. I have always been in awe of Phil and his commitment to PBS, such a down to earth and friendly chap. Thanks Phil" - Alan Fitzpatrick
"Thank you and congratulations Phil. The music world needs more people like you. Your genuine love and support and the rare lack of self-indulgent cynicism so prevalent in the world of underground music will always be treasured by the Hard-ons" - Ray from Hard-Ons
"Thankyou for always supporting local musicians on your show Phil! I've discovered heaps of great music through your show over the years! Congrats on the 40 years at PBS!" -  Love JRB and The Heaters
"Congratulations Phil on your amazing achievement in maintaining a top quality show for 40 years. This in itself is a feat that very few could and can aspire to but you have continued to do it your way. By being you the listeners have never left your show and as such you continue to stay relevant and just so bloody listenable. When l first met you all those years ago l didn't know just how to take you, understand you, but heh l was equally a mystery to you. 40 years! You legend Prince of PBS" - Peter Merrett
"What a fabulous 40 years you've given us Phil! Your devoted dedication, passion and consistent giving & sharing is an incredible foundation of PBS & Melbourne's amazing strong music scene. Thanks for all you've done and continue do. Just like the mix of music you play this is a celebration of the past and present" - David Jackson
"Hey Phil! Thank you so much for supporting all the bands we have played in over the years!! Stay sick11" - Lluis & Kylie - Thee Cha Cha Chas
"Hi Phil! 40 Fricking years! Thanks for your service, You're a bloody legend. We've loved tuning into your show the past ten years since becoming Pricktorians. Thanks again for the tunes, long live Sunglasses After Dark." – Drunk Mums
"40 YEARS! Amazing! He truly is the Prince of Darkness. Whenever I've seen Phil out, it has been indeed very dark... and late! He truly loves music, I know. Congratulations Phil, here's to another 40! Luv ya"- Pierre Baroni,  Soulgroove'66
"Hi Phil, big congrats on 40 years with PBS what a milestone. I have been listening to you since 1989 and have discovered so many bands through out the years because of you. Thanks for being there for whole music industry and being there for us" - Neil Bamford
"Upon first discovering PBS as a teenager, Sunglasses After Dark was the show that immediately grabbed me. All the music I was into was there, along with countless introductions to bands that I cherish to this day. To then have my own band played in the same company is truly an honour.
Congratulations Phil to 40 magnificent years on air, and a huge thanks for your ongoing support" - Matt, Shepparton Airplane
"Such a great show. Playing bands that take me right back to the Empress, Punters and Tote (long live the Tote!) and I've only been listening for 25 years! Keep spinning that vinyl forever!" - Paul, Longtime Listener
"So as you can see Phil, there's a whole lot of love and respect for you. Thanks for all you've done for music in Melbourne and PBS. Congratulations on this massive milestone.  Sorry we couldn't celebrate your achievement the way we'd hoped, but y'know it's a pandemic and all! See on the other side when we can give you a big cheers in person!"-  Mara W
"Congratulations Phil. Thank you for your dedication to underground music. Your knowledge is mind blowing and love listening to your musical stories. Happy 40th anniversary again mate, A True champion of good music. Cheers" - Todd McNeair
"Phil, thanks for decades of knowledge, dedication and inspiration. Your impeccable taste, passion for under-appreciated music and amazing support for local music is truly admired. Keep flying the freak flag" - Stu Manchu
"Dear Prince of Darkness, thanks to your *BRILLIANT* show, I now call myself a PBS listener-member/acolyte. I find that your intellect, sincerity and passion is inseparable from the fine selection of music that is your show. You've been a priceless outlet during COVID. I hope I can give you an in-person congratulations at a local gig in the near future. Unquestionably, you're a Melbourne legend!" - Francis Stagg
"Hey Phil, this is a massive story. Most people that are happy in their work don't last this long. Sensational stuff and thank you. I was quite an old fart when I first tuned in to PBS. The tune that got me hooked that happy day was Bonzo Goes to Bitburg. I can't even remember what time of day it was and I realised two things: 1 - good music from the PBS community is all around and 2- it doesn't matter what time of day it is. Cheers!" -  Joe Conway
"What can I say, kindred music spirits, The Corpse Grinders, still one of my all time favorite live bands - whatever happened to Aurther? I would love to hear "Hey Herman" again - Thursday night I always rock out in the shed! JCC Beasley St. Gold. Need some xray spex and penetration at some stage!!
New Rose, I have the single and still love it!! any chance of playing Burglar by the damned and some Sham 69!! Thanks again" - Ian "Hilly" Hill
"Phil, you possess an unrivaled passion and enthusiasm for punk music. Thanks for making community radio so special" - Pinch Points
"Rock on Phil" - Mullet
 "Happy 40th mate!!!" - anon
"Congratulations matey, love your work. Here's to 40 more!! Cheers" -  Sledge
"Congratulations prince of darkness. Thanks you for your amazing contribution and giving us so many years of your wonderful music. You're a legend!!!!!!!!!" - anon
"Fuck YEAH mate! Been listening to ya for over half of the 40 years! Reckon I learned about the Misfits from your show, amongst many other things!  - Punk Pete 
 "On ya for spinning rad tunes for 40 years! Legend!" - anon
"Congratulations on 40 years mate, a huge achievement" - anon
 "Congratulations Phil, love listening to your show and especially how diverse and informative you can be, cheers" -  Chris
"To the great prince of darkness congratulations on 40 years thank you for your support and amazing music education to us all stay healthy in the mini bar" - The Hybernators 
"F yeah the doors cheers mate" -anon
"Awww Love Sunday Morning! Great set, mate. Thanks for all your hard work. We love ya" -  Baroness M
"Dear Prince of Darkness aka LEGEND. Your show always makes for excellent listening. Congrats on 40 big ones. I've been tuning in weekly since mid-2019. I won't be tuning out anytime soon mate" - Frank from Balaclava.
"Phil - well done on 40 years. Awesome job! Thanks for the music"- Di 
"You are a very humble legend Phil, your breadth of knowledge and pure love of music is truly contagious. I feel like you're a friend Thank you x" -  Rebekah 
 "Hi Phil, Happy 40th. Congratulations on 40 amazing years. I've only been listening since 2000, but I tune in every week. Sunglasses After Dark is my favourite show on PBS. Thank you so much for sharing your music and your knowledge with all of us listeners. You have introduced me to so many great artists and bands over the years. I especially love the Goth stuff you play. Cheers Phil, enjoy your night"- Rick
 Aw very awesome. Very happy for you... And of course me. Great works" -  Pól the painter 
"Thank you for all your great shows Phil! X" - Cindy and Benny 
"Congrats Phil. I am an occasional listener and enjoy it ... tonight is great ...a member to 2 jazzshows so maybe next yr ... cheers"- anon
"Happy 40th Phil. Only been listening for about 5 years. Thanks for introducing me to Dead Moon. You are an absolute legend" - Jim from Seaford 
"Congratulations Phil! Thanks for your undying love and passion for Punk Rock and the Melbourne Scene. Music is your best friend sometimes and you've reinforced that for sure. Keep rocking man! Fucking Legend!"-  Love Steve from Reservoir xxx 
"Too forking good Phil! I remember following the wires to this cool radio station back around 80 or 81 at the Prince! For a kid from Ouyen in the bush it blew my mind and you in all incarnations and peebs has been my teachers of great rawk! Fucking Marquee Moon and the Pistols brilliant! Keep educating the kids man, love you all. Party on dude!" - anon
"Hi Phil, thanks for the music. I love Five Years and think I wore out a needle playing it over and over. Lost the record at a party. So happy to hear it on  such an occasion. Congratulations and best wishes for ever" -  Joe from Franga 
"Congratulations Phil!!! You're a legend!"  anon
"Well done Phil. Lots of love" -  Benny Peters
"First time listener tonight! But hey Congrats Phil on 40 years! I'm sure it's all been good" - Dan from Scoresby 
"Thursdays the highlight of the week with sunglasses after dark! Keep up the great work! We love it" - anon
"Used to string a huge dipole antenna across my bedroom ceiling to pick up the signal from Parkdale.... JUST! 40 years of brilliance from the dark Prince.  Cheers" -  Larry
"Happy 40 years on air Phil. Your dedication to underground music is incredible and your knowledge is mind blowing. Thank you for your love and service to really good music. Enjoy your amazing feat mate Cheers to you mate"   - anon
"Cosmic Psychos is what I use to drown out the neighbours dog barking... I love it but I'm not so sure about the dog"  - anon

"Ow o owowowo- anon
"Congratulations on 40 years, Thanks for all you and PBS do to put great music where it belongs" - Lilly the Dog 
"Great representative selections tonight to celebrate 40 great years. Congratulations Phil"– Ross 
"Congrats on your 40th Phil! You're a legend!! X" – Kristen  
"Congratulations to The Prince! 40 years of fantastic selections, and tireless championing of local music. Thank you!" -  Paul Maybury  
"Thanks for the great memories Phil. remember when you could catch the train to St. Kilda? Sunglasses after dark reminds me of the Prince. Ledged. Thanks" -  Mick
"Used to tape your shows in the late 80s and listen to them over and over all week. You introduced me to so many bands and I thank you still to this day. Congratulations Phil" - Dave from Queenscliff 
"Congrats on the 4-0!! You've got me through many nights working in the shed!! Thanks!!" - Andy Mozza Pascoe Vale
"Congratulations! what a milestone! Love your show & amazing that you've been doing it for 40 years! - anon
"You bloody rippa Prince O, 40 more thanks and then you can have a week off" -   Mick from Northcote
 "Thanks for everything Phil, you're a legend - can't wait for the next 40! X" - anon
"BEST news I've heard all fabulous 40th special Sunglasses After Dark night...you're not giving up!! Phil, you mean so much to us all. I love your show. Congratulations on your 40 years!! Remarkable. Saying congratulations is not enough. You're a true, rare and beautiful gem. Yes.... please don't stop sharing your knowledge, passion and such GREAT taste in music! We really do appreciate and love all that you do"- Sarah Sparkles 
"Congratulations on 40 years Phil! Been listening since you were doing tube disasters late 80s. Thanks for all your hard work and great tunes!" - Kristian  
 "Good onya Phil. Missed last week but loving the start this week" -  Friendy
"Happy 40th birthday luvchunks........ All the bought men . Meanies With love" - Mr Nick
"Keep on rocking man! Thank you" - anon
"Hi from Brisbane. Congratulations on your 40 years on pbs" - Frownfork
"Thanks Phil, I been listening to your show for near 20 years. You've turned me onto some awesome music that I don't hear anywhere else, even other PBS shows. Your show is still as good, fresh and crucial as ever. Let's hope you do another 40 years!"  -  Jimmy T
 "Hi Phil, great to hear you continuing celebrations! On Rick Beato's channel on YouTube he does a brilliant analysis of Smells Like Teen Spirit and what makes it so great. Hope you can check it out, cheers" - Chris
"Hey Phil, thanks for the great music as always. Enjoying our weekly 'sunglasses after dark' pool tournament at home" - Jimmy and Tim
"I can remember seeing an article in The Age in the late 80's with I Spit on Your Gravy. Featured call Punks have Parents too. It was a turning point with my relationship with my Mum. Congratulations on a great 40 years. It was about the same as time I found PBS and RRR" - anon
"Great show Phil. Dominic" - Adelaide
"After 15 years in Melbourne, it's Phil and Sunglasses After Dark that makes living back in Canberra bearable. Thanks for being who you are Phil, you're a true legend. Love your work!" - Tim
"Amazing job! Love the show! Love the music! You should be very proud! 40 fucking years!" - anon
"Ever since I spotted him in a smokey goth club back in the early 2000s, looking like he'd walked through a worm hole directly from the late 70s punk era, I knew I had to know him! So many great gigs shared, stories from history and amazing mutual friends made and shared. I was also honoured to design the 30th anniversary gig poster for the show, along with the CD version of Depression! Love ya forever Philly! xx" - Bella (in London)
Would you like to help celebrate 40 years with Phil?* 
*PBS will be moderating these comments!