2019 marks 40 years of PBS on the airwaves and we'd like to take a quick moment to look back at all the fantastic and exciting things we've been up to this year. We've hosted a vast array of live events of all genres at venues across Melbourne and Victoria, had hundreds of bands and musical friends drop by the studio for interviews and live performances, supported outstanding events around the state (even broadcasting some of them live to air), and - most importantly - we've watched our community grow and flourish through fantastic on air music programming. 
On November 20 this year PBS was inducted into the Music Victoria Hall of Fame, a timely recognition of PBS's contribution to community radio and to the broader Melbourne music community. The hall of fame includes music icons Paul Kelly, Chrissy Amphlet, Olivia Newton-John and most recently Vika and Linda Bull, amongst many more.
2019 has been full to the brim with PBS live events. We welcomed in the first moments of the year with the super group 'Women of Soul' pushing us with passion towards the 2018 finish line for Soul-A-Go-Go at the Night Cat. Stella Angelico, Chelsea Wilson, Carla Troiano, Shannen Wick and Audrey Powne got the Night Cat moving while PBS DJs kept things going into the early hours.
We took Soul-A-Go-Go on tour to make sure that the outer limits or Melbourne were dancing, legendary PBS announcer and DJ Vince Peach turned 70 and celebrated in style behind the Soul-A-Go-Go decks, and Disco-A-Go-Go returned for some extra flare.
We don't restrict our dance moves to the adults, though. Throughout the year we've been graced by such stellar artists as Ella Thompson, Regurgitator, The Belly Savalas and Ogopogo performing at our Rock-A-Bye-Baby events, getting the little tykes bopping and properly educated in the school of live music.
photo by Lana Redmond
This year saw the fifth and final Heavy & Hammered, bringing back the best of the last four years in a celebration of all that is loud. Barbarion and Frankenbok joined old mates of Heavy and Hammered such as Fuck the Fitzroy Doom Scene, Grindhouse and El Colosso for one last uproarious day and night at the Tote.
For the fourth year running Stani Goma (Flight 1067 to Africa) hosted Beasts of No Nation – A tribute to Fela Kuti, a pioneer and the irrefutable king of Afro-beat. This year was even more exciting than the last as celebrated Grammy nominated singer and saxophonist - and son of Fela - Femi Kuti played alongside the Public Opnion Afro Orchestra.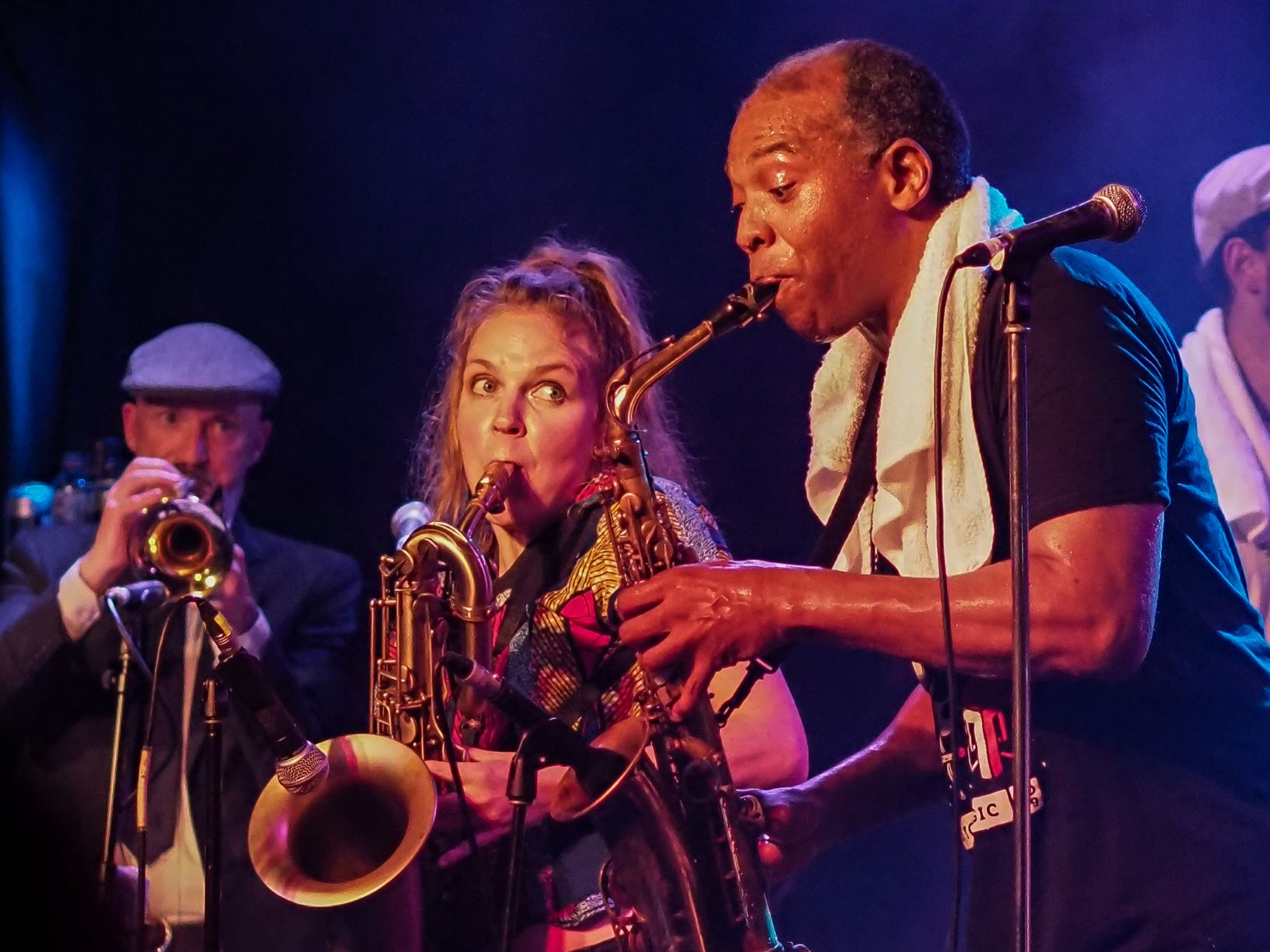 photo by Tony Whittaker
Live music is our passion here at PBS, and sometimes we need to bring it into the studio so that everyone can enjoy it. This year saw the cream of the live performance crop once again, bringing in musicians from around Australia and the world. Some performed live in Studio 5, and some kept it casual performing in the studio with their host. Our International Women's Day event returned with Alice Ivy, P-Unique and Sugar Fed Leopards in the studio, and Em Gayfer behind the interviewing mic.
Drive Live brought us 15 live acts, with performances from Sampa the Great, Hexdebt, The Public Opinion Afro Orchestra, REMI and many others. You can check out our Studio 5 Live year round up for an expanded list.
Outside the studio we brought Reservoir Stomp live to the airwaves for a broadcast featuring Empat Lima, Pony Face and the Cheddar Road Allstars and MC Emma Peel. We teamed up with Triple R to put on a fantastic Changes Festival showcase at The Night Cat, plus a workshop teaching the intricacies of interviewing on radio. We proudly started a new project engaging youth in partnership with Girls Rock Melbourne, teaching young girls and gender non-conforming kids the basics of radio broadcasting.
Purple Pilgrims w/ Peter Bramley, Paul Kelly w/ Annika Priest , Shelby from Bad Bangs w/ Maddy and Patty, Miles Mosley and Ryan Porter w/ MzRizk, Mike Huckaby w/ Edd Fisher, Freda Payne w/ Vince Peach & Julia Jacklin w/ Maddy and Patty
We've had our radio fingers in many pots this year and we're proud of all of our projects, big, small, one off and ongoing and are looking forward to a fantastic start to a fresh decade with many exciting things to come in 2020.
For more information and secrets of PBS tune into our 40th anniversary on air celebration all day on Saturday December 21.
PBS will be broadcasting great tunes all summer, however our office will be closed from Friday December 20, and reopening on Monday January 7.